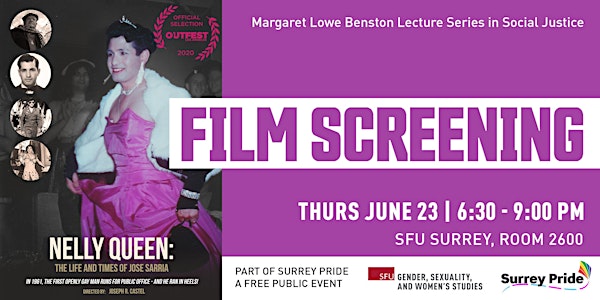 Film Screening of Nelly Queen: The Life and Times of Jose Sarria
Location
Simon Fraser University - Surrey Campus
250 - 13450 – 102nd Avenue
Room 2600
Surrey, BC V3T 0A3
Canada
Part of Surrey Pride - a free public event
About this event
Canadian premiere screening
Before Stonewall, before Harvey Milk, there was Jose Sarria!
Jose Julio Sarria was a WW2 veteran, a cabaret performer, a political activist, and the first out candidate for public office in 1961 all BEFORE Stonewall. He was one of the founding fathers of the LGBT+ community and has been called our community's own Rosa Parks. He was never one to shy away from controversy, he stood up for our civil rights as he fought back against police harassment and he galvanized the LGBT+ community in 1950s San Francisco. He is credited with being the first to use the term gay community and his activism birthed a political movement that has stretched across the continent. He proclaimed Gay is Good and urged the community to organize through his cry "United We Stand, divided they catch us one by one."
The film Nelly Queen: The Life and Times of Jose Sarria tells his story. From 1951-1963, Sarria stood in bright red heels on table tops at the Black Cat Café in San Francisco to sing torch songs accompanied by a honky-tonk piano. The diva performed one man opera parodies, replacing the straight love story with a gay one. Police harassment was common at that time and whenever the vice squad entered the café to entrap patrons, Sarria exposed them. He would alert the piano player and then encourage his closeted patrons to stand up and sing "God, Save Us Nelly Queens," a takeoff on Britain's national anthem as the frustrated vice officers walked out of the café.
Jose is important today as he was back in 1961 when he ran for office. Nelly Queen is not just an LGBT+ history lesson; it's a triumphant story of the human spirit, a hero's journey of a man fighting unjust laws and uniting a fractured community. Jose stands as a courageous role model to people still struggling with their sexual identity and self-esteem.
The Jose Sarria Foundation was created to honor Jose's dying wish to be remembered and to ensure the film Nelly Queen was completed. The foundation is an all volunteer non profit corporation dedicated to sharing Jose's contributions to the civil rights movement. The Foundation hosts displays of Jose's personal items, share his historic legacy to encourage young people to continue his life's work. Jose's message to be "thinking queens" and to stand up for each other is as important today as it was in 1950. For the love of Mama Jose...
Sponsors:
SFU GSWS - Margaret Lowe Benston Lecture Series in Social Justice
Surrey Pride Society