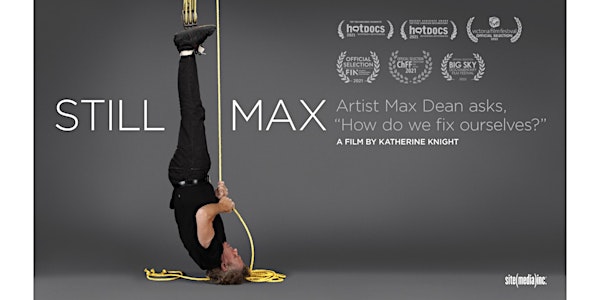 Film Screening STILL MAX: A film by Katherine Knight
Film Screening STILL MAX: A film by Katherine Knight | Projection du documentaire STILL MAX, de Katherine Knight
When and where
Location
Ottawa Art Gallery 10 Daly Avenue Ottawa, ON K1N6E2 Canada
About this event
Film Screening STILL MAX: A film by Katherine Knight
Followed by a panel discussion featuring artist Max Dean and filmmaker Katherine Knight, moderated by Ann Thomas, Curator. A question and answer period will follow.
5:00PM Welcome and public reception in Sky Lounge
5:30PM Theatre doors open
5:45PM Remarks
6:00PM Film Screening
7:20PM Panel Discussion and Q&A
_
STILL MAX: A film by Katherine Knight
Director: Katherine Knight
Production: David Craig, Katherine Knight
1 hour 19 minutes
Free admission
Description:
The Portrait Gallery of Canada and the Ottawa Art Gallery invite you to join us for the live Ontario premiere of the feature film STILL MAX (2021). This is an immersive portrait of Governor General's Award winning artist Max Dean as he applies the creative strategies he knows best – art – to his journey with cancer. Diagnosed with prostate cancer, Max Dean undertakes a creative project with which he becomes obsessed: repairing the mannequins from an abandoned amusement park. It is through this private, humanistic project that Dean explores the idea of repairing himself and others using simple tools: art and resiliency. The lovely and inspiring film focuses on Canadian artist Max Dean, exploring mortality and art, the creative expression of the joy of living, and the impermanence of things.
This celebration of the live Ontario premiere of STILL MAX is presented in the context of both the Portrait Gallery of Canada's forthcoming online exhibition Max Dean: A Portrait of the Artist as Artist, curated by Ann Thomas, and the conclusion of a multi-year donation of a significant body of work to the permanent collection of the Ottawa Art Gallery by the artist.
More information here
Projection du documentaire STILL MAX, de Katherine Knight
Le film sera suivi d'une table ronde et d'une période de questions animées par la conservatrice Ann Thomas, avec l'artiste Max Dean et la cinéaste Katherine Knight.
17 h Accueil et réception pour le public, Salon Azur
17 h 30 Ouverture des portes
15 h 45 Allocution
18 h Projection
19 h 20 Table ronde et période de questions
STILL MAX, un film de Katherine Knight
Réalisation : Katherine Knight
Production : David Craig, Katherine Knight
1 heure 19 minutes
Entrée gratuite
Description :
Le Musée du portrait du Canada et la Galerie d'art d'Ottawa vous invitent à assister en personne au lancement ontarien du long métrage STILL MAX (2021). Portrait immersif, ce documentaire suit l'artiste Max Dean, lauréat du prix du Gouverneur général, alors qu'il applique sa stratégie créative de prédilection, soit l'art, à son cheminement avec le cancer. Après avoir reçu un diagnostic de cancer de la prostate, Max Dean entreprend un projet créatif qui finira par l'obséder : réparer les mannequins d'un parc d'attractions abandonné. Par ce projet privé et humaniste, l'artiste explore comment de simples outils, l'art et la résilience, peuvent contribuer au rétablissement, tant le sien que celui des autres. Source d'inspiration, ce charmant film, qui porte sur l'artiste canadien Max Dean, explore la mortalité et l'art, l'expression créative de la joie de vivre, et l'impermanence des choses.
Cette célébration en personne du lancement ontarien de STILL MAX, est présentée dans le cadre de Max Dean : portrait de l'artiste en tant qu'artiste, une exposition en ligne à venir du Musée du portrait du Canada, organisée par Ann Thomas, et de la conclusion d'un don de l'artiste, réalisé sur plusieurs années, d'une importante quantité d'œuvres à la collection permanente de la Galerie d'art d'Ottawa.
Plus d'informations ici