About this Event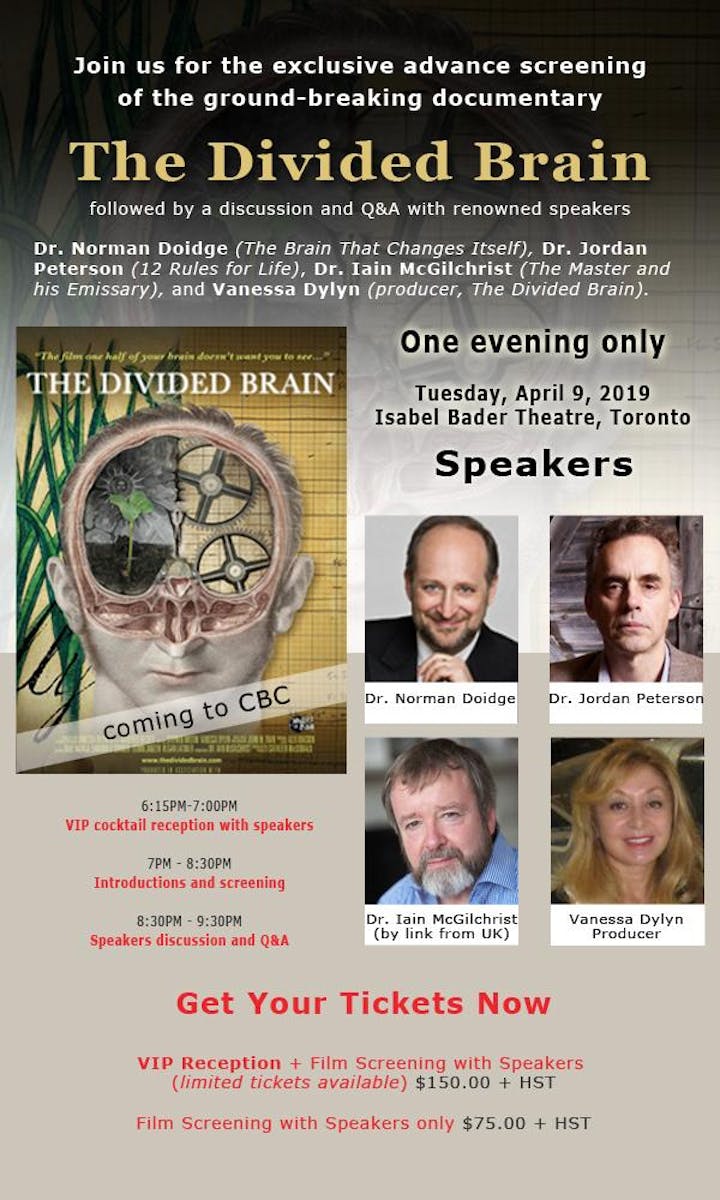 Tickets are going fast.
ABOUT THE DIVIDED BRAIN DOCUMENTARY
The Divided Brain is a mind-altering wakeup call that challenges our understanding of how we see the world and ourselves. Renowned psychiatrist and neuroscientist, Dr. Iain McGilchrist, takes us on a journey to understand how our brains have made us a powerful species, while simultaneously creating social and environmental problems that we struggle to resolve; problems that threaten our very survival and the future of our planet. While society searches for solutions, Dr. McGilchrist argues that the real problem is inside our heads. The Divided Brain is inspired by Dr. Iain McGilchrist's book, "The Master and his Emissary: The Divided Brain and the Making of the Western World' and features renowned experts and special appearances by the former Archbishop of Canterbury Rowan Williams, and actor John Cleese.
View the trailer for The Divided Brain.
Reactions to The Divided Brain from its London advance screening -
" - a superb introduction to Iain's brilliant book. Thoroughly recommended -" PETER FUDAKOWSKI Producer of the Oscar-winning film, TSOTSI
"I thought the film terrific. You managed to keep our interest rapt in a complex, abstract thought, which is a tremendous achievement -" NICHOLAS SHAKESPEARE Best-selling British novelist and biographer
" - a powerful documentary that has not shied from including critical voices." SUNIL KUMAR, PhD Former Dean, London School of Economics
ABOUT THE SPEAKERS
Dr. Norman Doidge, M.D., is a psychiatrist, psychoanalyst, and author of "The Brain That Changes Itself". He is on the faculty at the University of Toronto's Department of Psychiatry, and Research Faculty at Columbia University's Center for Psychoanalytic Training and Research, in New York.
Dr. Jordan Peterson is a professor of psychology at the University of Toronto, a clinical psychologist, and the author of the multi-million copy bestseller, "12 Rules for Life: An Antidote to Chaos" now slated for translation into 50 languages.
Dr. Iain McGilchrist is a Fellow of the Royal College of Psychiatrists, a Fellow of the Royal Society of Arts, and author of the acclaimed book, "The Master and his Emissary: The Divided Brain and the Making of the Western World".
Vanessa Dylyn, of Matter of Fact Media in Toronto, is an Emmy-nominated and Canadian Screen Award-winning producer of documentary films that have been sold world-wide.
ABOUT THE HOST-MODERATOR
Carolyn Abraham is the award-winning author of "Possessing Genius: The Bizarre Odyssey of Einstein's Brain". Abraham appears often as an on-air television commentator on medical issues.