Description
Filming for "PADMAN"
Starring leading Indian superstar Mr. Akshay Kumar
Saturday, 18th November 2017, Jazz at Lincoln Center, New York
This a great opportunity for actors, current and alumni students of film/drama, people with an interest in Bollywood/world cinema and those who care about social issues, to star in this prestigious film, starring Bollywood's leading actor Mr. Akshay Kumar.
PADMAN is written and directed by the critically acclaimed R Balki and is based on a true story.
The scene being filmed at Jazz at Lincoln Center is set around a high-level event, organised in honour of the lead character of the film (played by Mr. Akshay Kumar), who travels to New York from India to be acknowledged for his work by a Western audience.
Date: Saturday, 18th November
Time: 8am registration. 9am start. 12pm clear
Venue: Jazz at Lincoln Center Venue, Frederick P. Rose Hall,
Time Warner Center, New York
Dress Code: Corporate, business attire
Age: 18 years and above
Nationality: In accordance with the narrative of the scene, we are seeking extras of multi-racial origin to form our audience
To participate in the film shoot, please send your photo & contact details to Sterling Media on email padmanNY@sterlingmedia.co.uk or call +44 20 7801 0077
Admissions will be confirmed on a first come first served basis.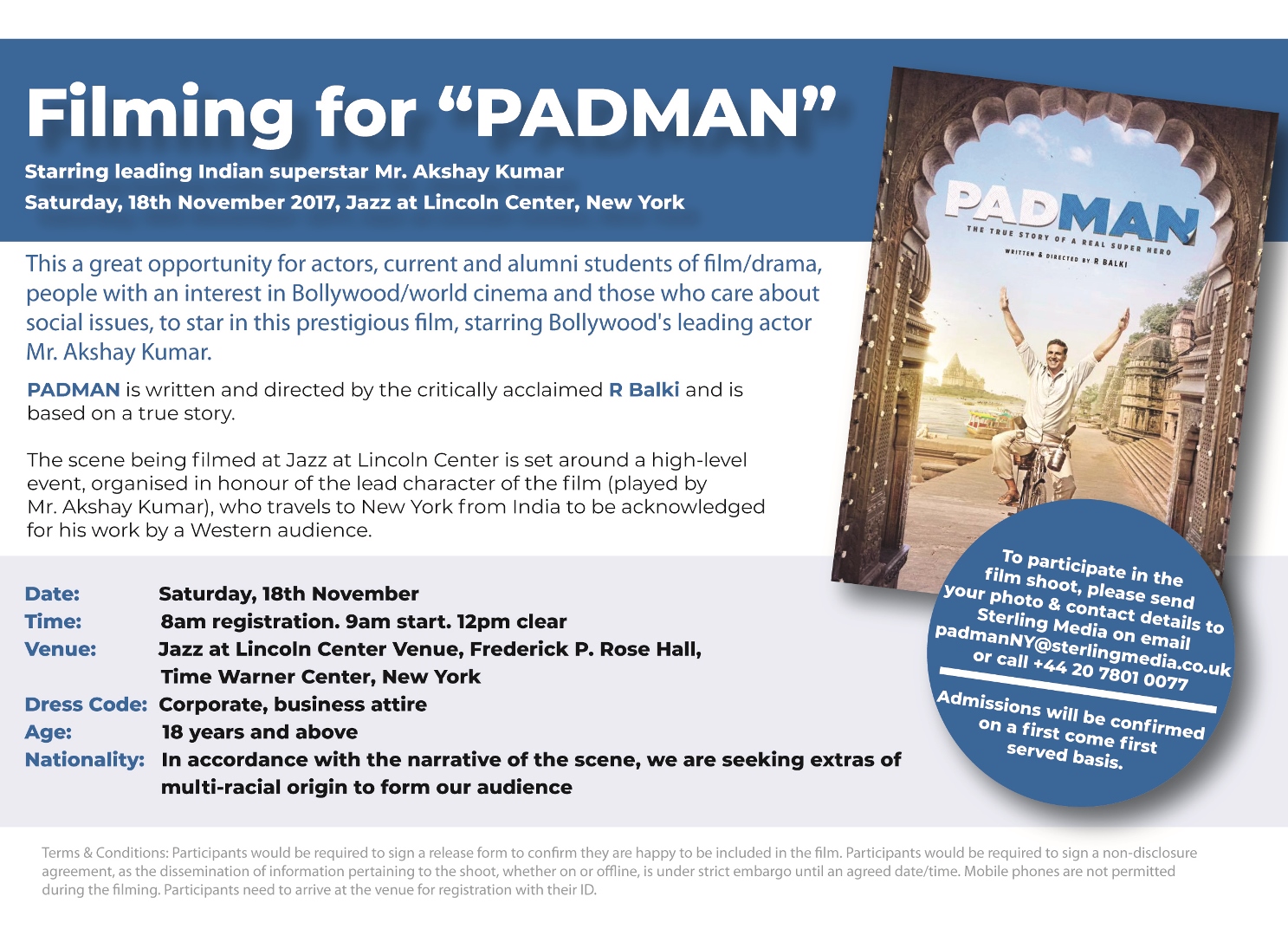 Terms & Conditions: Participants would be required to sign a release form to confirm they are happy to be included in the film. Participants would be required to sign a non-disclosure agreement, as the dissemination of information pertaining to the shoot, whether on or offline, is under strict embargo until an agreed date/time. Mobile phones are not permitted during the filming. Participants need to arrive at the venue for registration with their ID.