Filmmakers Night Double-bill: The People of the Kattawapiskak River + Every Emotion Costs

Friday, November 9, 2012 at 6:30 PM (PST)
Event Details
VIMAF is proud to present critically acclaimed directors Alanis Obomsawin, Doreen Naponse, and Joseph Mansourian at the West Coast premieres of The People of the Kattawapiskak River and Every Emotion Costs!

PROGRAM I: THE PEOPLE OF KATTAWAPISKAK RIVER [West Coast Premiere] with Q&A with Alanis Obomsawin, Director.
7pm | Doors open at 6:30pm
http://vimaf.com/the-people-of-the-kattawapiskak-river-2012/
Tickets: 
http://www.eventbrite.com/event/4741432753
$10/film; $15/double-bill
Alanis Obomsawin, a member of the Abenaki Nation, is among Canada's foremost documentary filmmakers. With the National Film Board of Canada, she has made 37 documentaries on the lives and concerns of First Nations people. Her latest film, The People of the Kattawapiskak River, delves into the housing crisis of the James Bay Cree.
In 1960, Obomsawin made her professional debut as a singer in New York. In 1967, NFB producers Joe Koenig and Bob Verrall invited her to the NFB as an adviser for a film about Aboriginal peoples. Since then, she has never strayed far from filmmaking, although this multidisciplinary artist still sings for humanitarian causes.
An activist with a camera, Obomsawin is driven by her desire to give Canada's Aboriginal peoples a voice, as her filmography certainly proves. From Christmas at Moose Factory (1971), which uses drawings by children to look at life in a James Bay Cree village, to When All the Leaves Are Gone (2010), which explores the power of dreams and the strength of the human spirit, Obomsawin has continuously shown that strong roots and ties between generations are important for preserving Aboriginal culture in Canada.
+
Kattawapiskak ("the parting of the rocks," in Cree) is a village of 1,700 people in Northern Ontario that few had heard of until fall 2011. Better known as Attawapiskat, the village made headlines when its band chief, Theresa Spence, declared a state of emergency and asked the Canadian Red Cross to help the community resolve a severe housing crisis in this subarctic region. [78 min, 2012]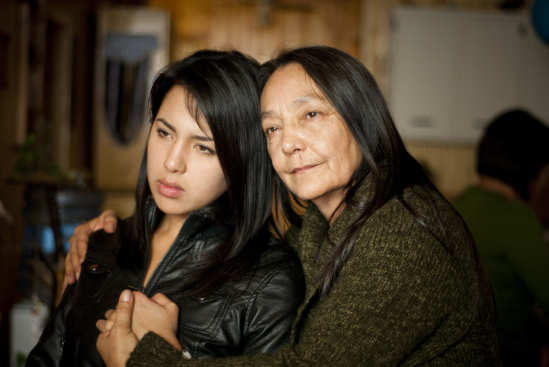 ///PROGRAM II: EVERY EMOTION COSTS [with Directors Q&A Doreen Naponse & Joseph Mansourian]
9pm | Doors at 8:45pm
http://vimaf.com/every-emotion-costs-2011/
Tickets: 
http://www.eventbrite.com/event/4741474879
$10/film; $15/double-bill
Doreen Naponse is an Ojibway woman from Atikameksheng Anishnawbek (Whitefish Lake First Nation) in Northern Ontario, Canada. She is a writer, director, video artist and poet.
Over the last ten years Darlene has refined her talent as both a Writer and a Director. She's a proud female Aboriginal writer, director and producer of visual and multi-media art who lives and works in her community. She currently holds the position of Councillor in her First Nation.
Her short films and feature films have screened in different film/video festivals across Mother Earth, including the Sundance Film Festival in 2001/2002/2003. 
Joseph Mansourian is a communications executive who founded OverTheAtlantic.com, a communications and design house headquartered in Sudbury, Ontario.
Every Emotion Costs is his first film as Producer. He joined Darlene Naponse to co-found Nite Fall Studios, a production company headquartered in Sudbury, Northern Ontario. As part of a discover grant from the National Screen Institute of Canada, Joseph and Darlene Naponse incubated and produced Every Emotion Costs as the inaugural production project from Nite Fall Studios. 
+
Every Emotion Costs is an exploration of the reality of returning home to the reserve to face family, community and the ceremony of death. We follow Quilla and her sister June as the return to bury their mentally ill mother. Upon arrival, Quilla must deal with a sister she hasn't spoken to in years, her past loves that emerge from the forest, and the resentment she had with her dead mother.
Emotionally abandoned by her mother we follow Quilla as she explores an upbringing of life on the reserve, past relationships, and find out what drove her away.
Organizer
W2 brings spaces to life with the arts and creative technology in the Downtown Eastside of Vancouver.

Come visit us at our new, permanent 10,000 sf ome in the Atrium of Woodward's:
W2 Media Cafe
111 W Hastings
Vancouver BC V5T 4B5
Phone 604-689-9896

W2 is people-powered, meaning mostly run by volunteers who care about making positive change happen. Your contribution of time or financial donation are equally welcome.