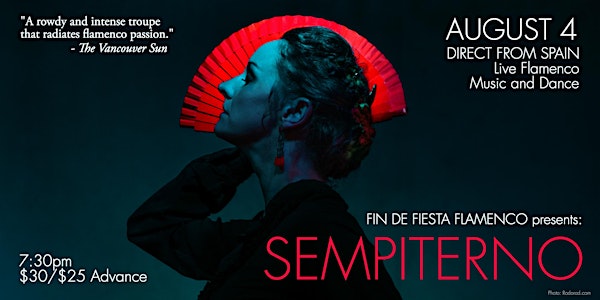 Location
Midland Cultural Centre - Rotary Hall
333 King St.
Midland, ON L4R 3M7
Canada
Fin de Fiesta Flamenco presents: SEMPITERNO
About this event
International flamenco music and dance ensemble Fin de Fiesta Flamenco brings their new production, "Sempiterno," to theatres and festivals across France and Canada this summer.
Though its members hail from Canada, France and Cuba, Fin de Fiesta Flamenco comes together every year in Spain and creates inspired new work to tour in North America and Europe. Immersed in the flamenco way of life, they create the vibrant and impassioned music and dance that has been dazzling audiences for the past seven years.
"Sempiterno" tells the story of the magnetic pull of the flamenco art form, a pull that has drawn Fin de Fiesta Flamenco's members away from the countries where they were born, and to Spain, the cradle of flamenco.
The searing vocals of Alejandro Mendia (Noces Gitanes, France) are accompanied by the intricate guitar arpeggios of Dennis Duffin (Ventanas, Seville) and the haunting flute melodies of Lara Wong (Madrid). Dancer Lia Grainger (2017 Certamen New York International Flamenco Competition finalist, (Madrid) brings the stage to life with fierce and sensual choreographies and improvisations and Hanser Gomez (Cuba) holds down the rhythm on cajon. Stunning dancer Deborah "La Caramelita" (Noces Gitanes, France) all joins the ensemble in 2019 for her second year on tour.
To the south of Spain and back again, Fin de Fiesta will leave you breathless, with the pulsing rhythms of flamenco beating in your heart.
"A rowdy and intense troupe that radiates flamenco passion." - The Vancouver Sun
"A mix of cultures immersed in flamenco spirit" - The Calgary Herald
"Wild and rhythmically complex." - The Winnipeg Free Press