Description



Want to learn how to let go of the weight, without giving up the rich, creamy, sweet comfort foods you love?
If you said YES! then read on!

This workshop is for you if….



Don't understand why you can't lose the weight, despite eating a healthy diet.
You are confused as to why you used to be able to eat whatever you want (but not any more).
You want to lose weight, but have no desire to exercise.
You haven't been able to release the 'after baby' weight.
You are pregnant and don't want to gain more weight than necessary.
The weight has been slowly creeping up on you even though you haven't changed your diet (it just makes no sense).
Your metabolism is so screwed up at this point that you have to diet - just to maintain your current weight - never mind lose it!
Your depression meds or birth control pills are making you fat and you feel helpless to change it.
You suddenly gained a ton of weight for no apparent reason - it seems like almost overnight.
Pushing 40 (and beyond) has you feeling frumpy, fat, frustrated, dried out, puffy and 'plumping up'.
You've been dieting without lasting results for so long and you are just done with it already.
You want make sure you know what you need to know, to make sure none of the above ever happens to you (again).
In this 2.5 hour workshop, you'll find out what's making you fat (and why it's not your fault)!




Here is a sneak peak at just some of what you will learn:

Why your body wants to be fat and won't let you burn it off (how to fix that)
How to eat (timing - wise) to get your body to access stored fat (and burn it!)
Exactly what to eat to release the weight PERMANENTLY (eating more satisfyingly decadent yummy foods then ever!)

Workshop includes....
Hand outs that make it easy to remember what you learn
Delish Diet friendly drinks & snacks (experience the decandence of the Delish Diet first hand!)
Exclusive special offers you won't find anywhere else (to help you implement what you learn)
You too can…..

Have the body you want (not one settled for, but the one you REALLY want)!
Wear clothes you LOVE (maybe it's that sexy lingerie or bikini you've had your eye on)!
Feel light on your feet, comfortable and at home in your body again (finally).
Let yourself eat when you are bored, emotional or just for the pure pleasure of it (without having to worry about paying for it later – I am NOT kidding – this is totally possible!)
You can even eat after dinner and before bed with out putting on the pounds (and no, I don't mean celery and carrot sticks… come on)!!
Give into your cravings, knowing they are good for you and helping you become THAT person who can eat whatever you want and without gaining the extra weight!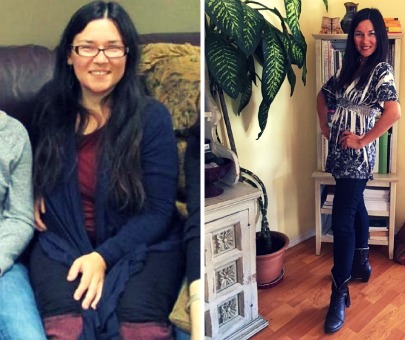 About your host Sherry Rothwell, RHN.....

I offer a natural and permanent approach to weight loss without having to give up the rich, creamy, sweet comfort foods you love!
I've been in your shoes. At 5'3 3/4 inches and 176lbs, I was clinically obese.

I am not one of those 'make it look easy' fitness junkies or 'always been skinny chicks' who can't figure out why you just can't stick with counting calories or an exercise routine!

Best of all my approach is simple and it works – no counting calories, carbs, protein or fat grams - and exercise is optional!

Once I get a hold of you, you're going to eat more luxuriously than ever!