Event Information
Refund policy
Contact the organizer to request a refund.
Eventbrite's fee is nonrefundable.
Learn all about the life-changing Stewardship Principles that every Christian needs to know in this interactive workshop.
About this event
The bible calls us to be good stewards - yet most Christians live their lives without a solid understanding of stewardship and aren't sure how they can live out their faith through their finances.
In this interactive workshop you will learn:
A simple yet profound framework for Stewardship
The implications of believing God owns it all
The roles, responsibilities, and rewards of financial stewardship as defined by scripture
How to utilize the Stewardship Journey Map
Five transcendent financial decision-making principles found in the Bible
How money is intertwined with biblical teachings on contentment, generosity, self-control, provision, gratitude, freedom, etc.
A simple understanding of the four uses of money (live, give, owe (debt and taxes), grow) and the biblical principles that inform each use
Come join our expert instructors in this introductory workshop and be better equipped in applying biblical wisdom to your financial decision making.
Seating is capped at 25 attendees so register today!
Date: Saturday, December 11th, 2021
Time: 10:00am - 2:00pm
Cost: $100
**𝐑𝐞𝐠𝐢𝐬𝐭𝐞𝐫 𝐨𝐧 𝐄𝐯𝐞𝐧𝐭𝐛𝐫𝐢𝐭𝐞 𝐟𝐨𝐫 𝐭𝐡𝐞 𝐙𝐨𝐨𝐦 𝐋𝐢𝐧𝐤 𝐭𝐨 𝐭𝐡𝐞 𝐖𝐞𝐛𝐢𝐧𝐚𝐫 and attend for a chance to win a free registration for the Stewardship Foundations Course ($1000+ value)**
WHAT IS RISE ABOVE FINANCE?
Rise Above Finance is a Financial Planning firm that equips faithful stewards in centering God at the heart of every financial decision.
Our goal is to help you establish, reach, and maintain financial goals that are guided by the principles and wisdom found in Scripture. It is our conviction that all of our possessions - including money - belongs to God, and we have been entrusted with this wealth in order to carry out our calling from God in bringing forth His Kingdom.
Rise Above Finance was created to help Christians take action in achieving extraordinary transformation through realigning their finances to their values and purpose.
Our big vision is to create a culture of stewardship in every Christian Household.
ABOUT THE SPEAKERS
Forest Li, CPA, CA, CFP, CKA
Forest loves Jesus. He is passionate about equipping people to apply biblical principles in their day-to-day finance. Forest started his career as a Chartered Accountant in a Big Four accounting firm.
After five years, he transitioned to a Non-profit housing society as their Director of Finance. Although Forest had a high paying job and accumulated a six figure investment account, he didn't feel content about it at all.
Instead, he felt emptiness and savings became the ultimate "safety net" for him. It was not until Forest's parental leave that God started working on Forest's heart.
As Forest studied what the Bible said about stewardship and God's ultimate ownership of all things, he surrendered his savings account and possessions to God which led to contentment that he never experienced before. The rest as they say is history.
Ivan Chen, CFP, CKA, CLU, CHS, MFA-P, CPCA, CEA, RIS
Ivan has been in the financial services industry since 2004. After following the world's way of building wealth and getting into $100K of consumer debt, everything started to fall apart in 2008 when he lost his income. He felt like a hypocrite teaching people about finance when he couldn't figure it out himself.
He started searching the Bible for guidance and found out how much the Bible actually talked about finance. By following the biblical wisdom he was able to pay off his debts and save at the same time in 3 years.
He co-founded Rise Above Finance as part of the vision to create a culture of stewardship in every Christian household. His mission is to equip faithful stewards to put God at the center of every financial decision.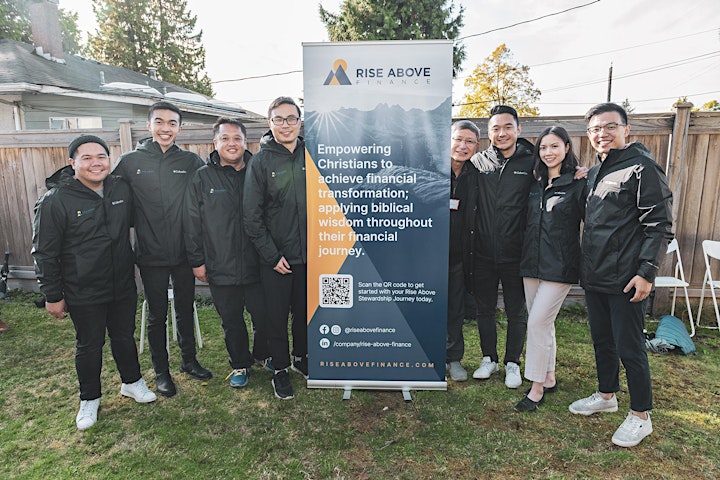 Date and time
Location
Refund policy
Contact the organizer to request a refund.
Eventbrite's fee is nonrefundable.
Organizer of Finance for Christians 101: Stewardship Principles to Transform your Life