Event Information
Location
Virtual - from the comfort of your home + recorded event
Refund Policy
Contact the organizer to request a refund.
Eventbrite's fee is nonrefundable.
Description
FINANCIAL ASTROLOGY 101
NEW 22-day Beginner Astrology Online Group Intensive!
*only 8 spaces remaining*
Healer, teacher, transformational leader, welcome welcome!
This 22-day group intensive learning journey is designed to introduce you to the essentials of your astrology birth chart and your cosmic design energetics and prepare you for the following future study paths with me:
Intermediate Astrology for Integrated Healing Work 2019-2020
The Cosmic Cycles 2019-2020 (Intermediate, Advanced)
Financial Astrology 2020 (Intermediate, Advanced)
Astrology for Business 2019-2020 (Intermediate, Advanced, Practitioner Training)
Astrology for Investing 2020 (Intermediate, Advanced)
Horary & Electional Astrology 2019-2020 (Fundamentals, Advanced)
This is for you if you are interested in accelerating and quantum leaping your astrological learning and practice in 2019-2020 while growing your business and bank account at the same time.
This is NOT for you if you have other major learning commitments during this time or if you are a hobbyist looking to brush up on your astrology for lightweight familiarity. It is an accelerated learning intensive that will require your engagement, full participation and 3-4 hour weekly commitment in study, attendance, integration time and asking questions during the weekly Q&As mid Sep-mid Oct 2019 and receiving tons of value, priceless support and community connection.
We will be discovering your birth chart basics for prosperity creation, learning why and how channeling your Rising sign and Mercury is critical for alignment to your path, why and how integrating the Sun/Moon and Venus/Mars energetic partnership is key to your wholeness, prosperity and fulfilment with more ease, rediscovering your core gifts, unique contribution, and the prosperity keys to your aligned money channels, true wealth and more!
No previous knowledge of astrology is required.
We are starting on September 17th, 2019!
Course Prerequisite: A basic knowledge of the signs, houses and birth chart 101 is helpful but not required.
The course is designed for a beginner healer-intuitive coach-astrologer-practitioner.
When: September 17-October 10, 2019, via 5 pre-recorded webinar video classes, astro mentorship in a dedicated and private FB group, PLUS 5 highly-valuable Facebook Live Q&A sessions on:
Sep 17th at 6:30pm EDT (the first welcome livestream)
Sep 20th at 12:00pm EDT (Q&A session # 1)
Sep 26th at 12:00pm EDT (Q&A session # 2)
Sep 29th at 12:00pm EDT (Q&A session # 3)
Oct 3rd at 12:00pm EDT (Q&A session # 4)
Oct 9th at 12:00pm EDT (Q&A session # 5)
(+the first introductory FB Live welcoming everyone to the 22-day learning journey will be on Tuesday, September 17th, 2019).
The pre-recorded classes with content, templates, your astro-interpretation tools and practical exercises are posted in the group twice a week. In addition, there will be 5 full Q&As which are a bonus opportunity for valuable additional support and mini-readings you receive in a safe, inclusive and private online group.
Where: Virtual – from the comfort of your home by a private Facebook Group, Facebook Live and pre-recorded video (all resources, slides, templates, and discussions will be saved and accessible through the group)
Cost:
CAD $297 early bird @ only 8 spots remaining (before August 20th, 2019 at 11:59 pm EDT, while availability lasts)
CAD $397, as of August 21st, 2019, while availability of 10 spaces lasts)
IMPORTANT: 15% off for all 2019 clients who purchased services from me in the last year and who register for the course before August 31st, 2019 (enter special discount code: vipclient)
BONUS: A free 60-min Astrology/Akashic Record reading with Milada included as a special bonus when you register for *the course AND a 3-session package* by August 31st, 2019 (while availability lasts only).


---
TO REGISTER: Click TICKETS to the top-right green button to register
---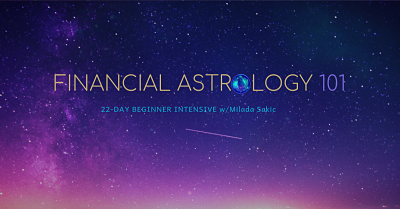 ---
What you will receive:
7 video classes (60-min each pre-recorded class, posted in our private FB group over the course of the three weeks)
5 FB Live Q&A sessions (+a welcome FB live on Sep 17th)
7 video class comprehensive PDF slides with templates and your astro interpretation tools (yours to keep)
22+ days of valuable astrology mentorship in the group
You don't have to attend/participate live in all five Q&A sessions.
You will be able to post your questions in the group one day ahead of the session and watch the replays. All video classes as well will be posted in a private FB group dedicated to the intensive and the comprehensive digital PDF slides in the Files section of the group.
This online class has also been a fantastic and unique opportunity to receive weekly mini readings with yours truly in a sacred, safe, and inclusive online group setting at a fraction of the cost of working with me 1:1 (including both course-learning related and your birth-chart related questions).

What we will cover:
1:: First steps in reading your birth chart for prosperity creation
2:: Channeling your Rising sign and Mercury for alignment to your path
3:: The Sun and the Moon: Reclaiming your confidence + fulfillment
4:: Venus and Mars: Where to enjoy life and invest money + energy
5:: Rediscovering your core gifts and contribution, monetizing w/ease
6:: The Financial Axis (2H:8H) amplified for financial freedom + flow
7:: The Prosperity Keys to your aligned money channels + true wealth
---
VIP astrology student offer for private coaching with Milada, valid ONLY WITH Financial Astrology 101 ecourse purchase:
CAD $177 for one 60-75-minute 1:1 intuitive coaching session (Astrology for Business 1:1 intuitive reading, recorded, value $247)
CAD $397 for a package of 3 x 60-75-minute sessions (all recordings provided for your future reference), until August 31, 2019 only

Date and Time
Location
Virtual - from the comfort of your home + recorded event
Refund Policy
Contact the organizer to request a refund.
Eventbrite's fee is nonrefundable.