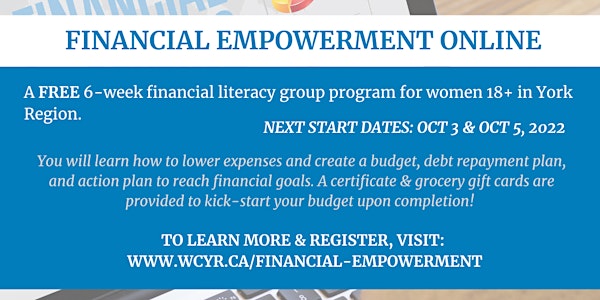 Financial Empowerment - A Free Financial Literacy Program for Women
Financial Empowerment is a financial literacy program that can help you to take greater control of your personal finances.
When and where
Location
Newmarket Public Library 438 Park Avenue Newmarket, ON L3Y 1W1 Canada
About this event
No one starts out understanding how to manage money. From creating a household budget, saving for a child's education, buying a car, choosing a mortgage to evaluating life insurance or a retirement fund, or managing your debt, people have to learn about personal finance in order to be successful overseers of their incomes and assets and to reach their life goals. We offer a series of weekly classes and personalized coaching. With this knowledge and support, women are empowered to take greater control of their personal finances and to use best financial practices to progress toward their financial and life goals.
About the Program:
Over a six month framework, women in the Financial Empowerment program are supported through:
6 weeks of online group sessions
Complimentary financial kit
Networking and peer support
Individual financial coaching
Seminars with guest speakers
All programs are offered free of charge
Please call or email us today to find out more or to register for an upcoming session.
*Program is limited to women 18+ residing in York Region*