Financial Framework: With World Participation on Global Challenges
Session will build on financial models that focus on a human rights approach to housing models in cities.
About this event
Urban + Future (U+F)
U+F's mission is to offer and present superior models, solutions and funding strategies for housing based on social values, technology, innovation and architecture, while providing attractive and sustainable financial investment returns for shareholders and investors. U+F envisions pioneering a development platform for housing in Canada and the World, aligned with Sustainable Development Goals (SDGs), with sound and sustainable financial strategies.
A Smart Platform for Housing
The vision of Urban + Future (U+F) is to establish a Smart housing platform to create real homes and present the concept of home as one of the fundamental elements that shape peoples' life experiences.
A home is a happy place where one can live, be loved, where memories are created and one of the essential necessities of human life.
There is a serious gap between how the current development in the housing sector is trending as opposed to the full opportunities and possibilities that homes can provide. U+F specializes in understanding and analyzing the contemporary meaning of a home based on fundamental dimensions of architecture and quality of space.
Historically, after the industrial revolution, opportunities and capabilities of architecture have not been fully utilized in housing and urban development in the world. Importantly, valuable architectural ideas are needed to create new windows and opportunities to add to the quality of space.
U+F will be an innovator of this extraordinary spatial experience. Dwellings are containers of life that have a direct and immediate impact on the dwellers' state of wellbeing and happiness. Architectural ideas when used correctly have the capacity to improve our settlements and homes.
Housing and Sustainable Development Goals
Cities can have a serious impact in achieving the Sustainable Development Goals (SDGs). Considering that housing is one of the main components of a city's built environment in both quality and quantity, it is fundamentally important for cities to rethink their current models of housing.
U+F will use all dimensions of housing to create alternative models, aligned with SDGs, including energy efficiency, social dimensions, use of space among other important qualities.
U+F will establish partnerships with academics and research institutions regarding their ideas and concepts on sustainable housing. Architects and urban professionals' practice will be enriched through this global dialogue on sustainable housing.
U+F will bridge the gap between theory and implementation. In this complex interaction, U+F believes that architects first need to translate fundamental ideas, concepts and approaches of SDGs into the architectural language and absorb them before the essence of social principles can be integrated with housing as the output.
This is important because the narratives of such products must be presented within a real scale and practical way that conform to the contemporary architectural language.
Introduction
In the process of realizing the Sustainable Development Goals (SDGs), one of the fundamental aspects of its success is the challenge that cities and countries around the world face on the availability, creation and management of resources (human and financial). In particular, the challenge revolves around the means of creating resources and how to effectively engage different stakeholders in the transformation process of cities.
Between $3.3-4.5 trillion USD per year needs to be mobilized if we hope to achieve the 2030 Agenda for Sustainable Development (UN-Sustainable development Group, Unlocking SDG Financing: Findings from Early Adopters, July 2018).
In a rapidly urbanizing world, it will be under the leadership of cities where humanity will succeed or fail in achieving our goals of poverty eradication, equality, climate change reduction, and ensuring healthy lives.
Urban + Future provides innovative solutions for cities and countries to help them access funds and resources they need to achieve the SDGs. However, it is important that we determine how to provide these funds and resources, and from which sources they come from. For example, the funds could come from the national resources or through private and public channels. Furthermore, there are models that currently exist that can support resource mobilization in this context.
Local Government Finance
Local Government or Municipal finance is about the revenue and expenditure decisions of municipal governments. It covers the sources of revenue that are used by city or municipal governments – taxes (property, income, sales, excise taxes), user fees, and intergovernmental transfers.
An efficient financial structure is essential to the success of cities in meeting the challenges of urbanization, decentralization, and globalization. The financial structure affects the quantity and quality of services.
Fig. 1 provides an overview of municipal revenues may include investment income, property sales, and licenses and permits, for example. In terms of taxes, the property tax is levied by local governments in many countries. In addition, revenues from intergovernmental or transfers, from transfers from senior/higher levels of government are an important source of revenue for municipalities around the world. They can be earmarked and non-earmarked.
Taxes are important in revenue generation. Both at the national and municipal level, taxation is linked to development. Taxes provide the revenue that national and local governments need to mobilize resources and reinforce a country's or city's infrastructure. Taxation "provides a predictable and stable flow of revenue to finance public spending, and shapes the environment in which investment, employment and trade takes place". While responsible, accountable, and efficient cities and local governments need to raise their own revenues as much as possible, adhere to an open and visible municipal budgetary process, and engage in transparent and prudent financial management, there is a need for innovative approaches to enhancing revenues to achieve the goals of sustainable development.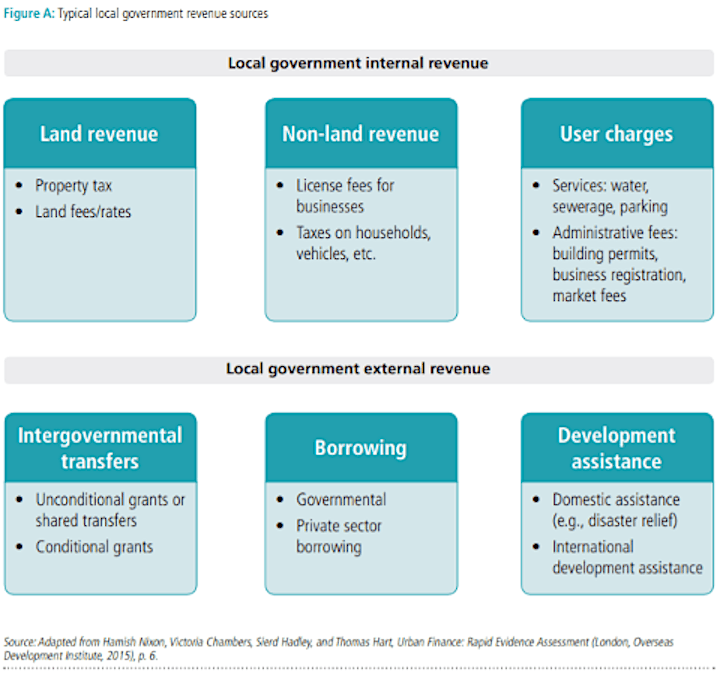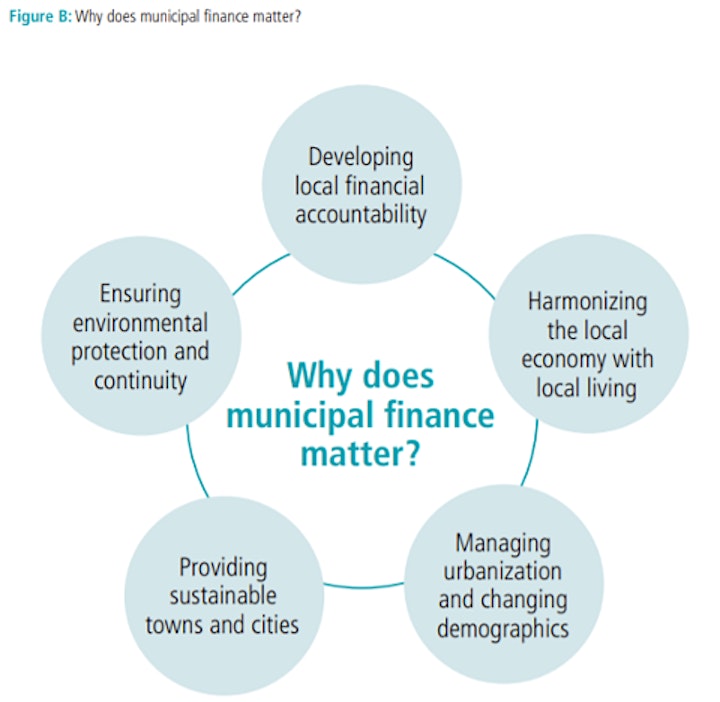 Urban + Future is understanding the means in which resources can be provided to cities and countries to accelerate the realization of SDGs through the guidance of sustainable financial frameworks. It is necessary that we use combinations of different models to assess both the opportunities and challenges of each. While advocating for national and international finance for a sustainable and just recovery, Urban + Future will guide cities to focus on raising revenue and attracting funding and capital investment to pursue local priorities.
Urban + Future is understanding the means in which resources can be provided to cities and countries to accelerate the realization of SDGs through the guidance of sustainable financial frameworks. It is necessary that we use combinations of different models to assess both the opportunities and challenges of each. While advocating for national and international finance for a sustainable and just recovery, Urban + Future will guide cities to focus on raising revenue and attracting funding and capital investment to pursue local priorities.
Major component or element of this program / plan
World Participation
Due to the interconnected nature of SDG 11 with other SDGs, it can play a lead role towards contributing to the SDGs. Successfully leveraging finance is paramount to achieving SDG 11.
This depends on measures and reforms that empower local governments through intergovernmental transfers, own source revenue collection, and enhanced creditworthiness of cities to create certainty for investment from subnational governments. Local governments must strengthen their governance structures and institutional capacities to manage long term debt, leverage their own finances, and engage in public-private partnerships — thereby reducing risk and exposure to develop needed infrastructure.(David Horan 2019)
On the subject of urbanism, the current situation of the world with the challenges posed by COVID-19 and other contemporary developments in world politics, show that we are together; it is difficult to make independent decisions to solve a common problem. There are many challenges that our cities face today, from the influx of people into towns and cities, and their natural growth, climate change and lack of affordable housing. We need to work together in an urban world to make collective decisions on how a methodology or framework can be created to facilitate global cohesion on such issues.
It is necessary that we think about how we can create a common or global platform with a niche target, specifically on the matter of finance or resources, to work together to realize the SDGs, support the SDG Cities program by building the capacities of cities through data and knowledge, and focus on a specific goal, such as SDG 11: "sustainable cities and communities".
Financial Model
There is a need for a clear financial framework, one that will help attract investors, stakeholders, donors and other relevant contributors from around the world. The financial model needs to determine how a structure can be created for people to make investments and reap the benefits of their investments while helping to create a sustainable world. The financial model will answer how a progressive system can combine the contributions of various investors to realize sustainability can be created. We have spoken about this for years, now is the time to move from words to action.
The concept of participation shows us that people could come together to generate income and benefit from their investments in a specific context. The world should rethink how we can create or innovate a global platform for public participation. One that will help combine resources from around the world to create more effective solutions and help shift the current financial management systems in the world.
Main Challenges
Climate change & energy
The recent reduction in the global investments in renewable energy and energy efficiency could threaten the expansion of green energy, even if we accept that will be a temporary trend and it will recover after COVID 19, we need to accept that the investment in clean energy is not commensurate with the escalation of the crisis and it indicates that more cooperation between countries are needed to ensure a sustainable investment in this area and it is needed to provide energy security and meet goals pertaining to climate change and greenhouse gas emissions. Renewables such as wind and solar power already account for almost 80% of newly built capacity for electricity generation. Investors and markets are convinced of their reliability and competitiveness.
The world's richest nations or the so called G7, have recently agreed to end their financial support for coal development overseas, in a major step towards phasing out the dirtiest fossil fuel. Many financial institutions are now promoting investments to accelerate climate transition and advance inclusive growth.
Increasing green finance, climate finance and low-carbon investments are directly and indirectly related to various SDGs (Sachs et al., 2019) (Table 1).

Housing
Globally, there is an acute lack of well-located urban housing that is adequate, secure, and affordable. The affordable housing gap is currently estimated at 330 million urban households and is forecast to grow by more than 30 percent to 440 million households, or more than1.6 billion people, by 2025. In 2020, the then UN Special Rapporteur on adequate housing urged governments to take extraordinary steps to secure the right to housing for all in order to protect against COVID 19 pandemic. The pandemic has shed new light on an ongoing affordable housing crisis and sparked a new sense of urgency to make the demand for "housing for all" into a reality.
Robin King, et.al. defines three key challenges to providing adequate, secure, and affordable housing in the global South: the growth of informal or substandard settlements, the overemphasis on home ownership, and inappropriate policies or laws that push the poor out of the city. (Robin King, Mariana Orloff, Terra Virsilas, and Tejas Pande, Confronting the Urban Housing Crisis in the Global South: Adequate, Secure, and Affordable Housing, world resource report, working paper)
The appropriate model should focus on a new approach to analyzing housing options. It needs to move beyond the formal/informal, public/private, and individual/collective dichotomies to consider a spectrum of options that combine different elements of ownership, space, services, and finance.
Historically, structural changes in housing and financial markets and global investment have occurred in recent years. Rather than being valued as a place to live in a community, housing has become a commodity to be bought and sold for profit, valued as security for financial instruments that are traded in global markets and treated as a means to accumulate late massive wealth for a few, while rendering housing unaffordable for others. These global challenges to the human right to housing are generally referred to as the "financialization of housing".
Infrastructure
Infrastructure systems form the backbone of every society, providing essential services that include energy, water, waste management, transport and telecommunications. Infrastructure can also create harmful social and environmental impacts, increase vulnerability to natural disasters and leave an unsustainable burden of debt. Investment in infrastructure is at an all-time high globally, thus an ever-increasing number of decisions are being made now that will lock-in patterns of development for future generations.
Although for the most part these investments are motivated by the desire to increase economic productivity and employment, we find that infrastructure either directly or indirectly influences the attainment of all of the Sustainable Development Goals (SDGs), including 72% of the targets,. Also Thacker,and et.al. Indicate that to ensure that the right infrastructure is built, policymakers need to establish long-term visions for sustainable national infrastructure systems, informed by the SDGs, and develop adaptable plans that can demonstrably deliver their vision." (Thacker, S., Adshead, D., Fay, M. et al. Infrastructure for sustainable development. Nat Sustain 2, 324–331 (2019). https://doi.org/10.1038/s41893-019-0256-8)
Urban + Future will focus on creating a progressive platform for the future of the urban areas around the world with these three major focus areas : climate change & energy, housing, and infrastructure.
Alternative Model – Key Questions to Create a model for global public participation
How can we create a flexible, trustable and progressive financial model for investments?
How can we collaborate with the cities and countries so they can participate in this global initiative?
What are the advantages of this program?
Through a series of discussions, new innovators or pioneers will be featured that are developing progressive tools that facilitate more involvement from the rest of the world. When talking about the world – it's about maximizing the participation of all the people around the world. This kind of global initiative has different interactions with the political, cultural and social components.
With a clear strategy in mind, based on a transparent model, through financial pioneer themes, U+F aims to create extraordinary as well as workable solutions for the world. Discussions will focus on progressive models that may still exist at a conceptual level . These will be further developed in a collaborative setting.
Conclusion
A human rights approach will build on innovative models of housing, and housing production as we witness growing resistance to the financialization of housing emerging in communities around the world.
Financialized global markets are too often seen as external forces beyond the control of states. However, financialization is in fact a product of state action and inaction - sustained by and supported by states. States and governments are perfectly capable of redesigning laws and policies governing housing and financial markets to recognize the centrality of the right to adequate housing-providing they are allowed to implement them. The ability of states to perform this task is central to the realization of SDG 11. It will require a significant transformation of current systems of law and accountability and new avenues of access to justice, at the local, national and international levels. This may be a tall order, nevertheless not out of reach. Human rights approach to the housing sector can check the undue dominance of corporate finance in the sector. This will mean asserting both the rights claimants and at the same time, demanding that the government at every level, from the local to the national, fulfills its obligations to respect, protect and ensure the right to adequate housing.
These obligations must be understood not only in the context of government programmes to provide housing but also in the context of governments' role in regulating private actors and financial markets.
Emerging work in the area of business and human rights should be more rigorously applied to the largest sphere of global business – the sphere of housing and real estate. Financial institutions and housing investors should be encouraged to adopt guidelines that recognize the important role that they must play in the realization of the right to housing. The implementation of the 2030 Agenda calls for the insistence that human rights obligations be recalibrated to address the immense challenges of the financialization of housing and redirect the vast resources available toward the realization of the right to adequate housing.
References
Horan, David ( 2019 )A New Approach to Partnerships for SDG Transformations, Sustainability, 11(18), 4947; https://doi.org/10.3390/su11184947
Leilani Farha, Un Special Rapporteur On The Right To Housing, And Bruce Porter, Social Rights Advocacy Centre( 2017) SDG 11, Commodification over community: financialization of the housing sector and its threat to SDG 11 and the right to housing, Civil Society Report, Spotlight on Sustainable Development, www.2030spotlightt.org
Rendtorff, Jacob D (2019) Sustainable Development Goals and progressive business models for economic transformation, The journal of Local Economy and Policy Unit Volume: 34 issue: 6, page(s): 510-524 https://doi.org/10.1177/0269094219882270
SDG , Industry Matrix, Financial Services , Produced jointly by: United Nations Global compact, and KPMG.
Taghizadeh-Hesarya Farhad,, Naoyuki Yoshinob, The way to induce private participation in green finance and investment, Finance Research Letters, Volume 31, 2019, Pages 98-103,ISSN 1544-6123, (https://www.sciencedirect.com/science/article/pii/S1544612319300509)
Thacker, S., Adshead, D., Fay, M. et al. Infrastructure for sustainable development. Nat Sustain 2, 324–331 (2019). https://doi.org/10.1038/s41893-019-0256-8)
United Nation Sustainable Development Group (2018) Unlocking SDG Financing: Findings from Early Adopters
UN-Habitat (2016 ) Finance for City Leaders hand book.
Organizer of Financial Framework: With World Participation on Global Challenges