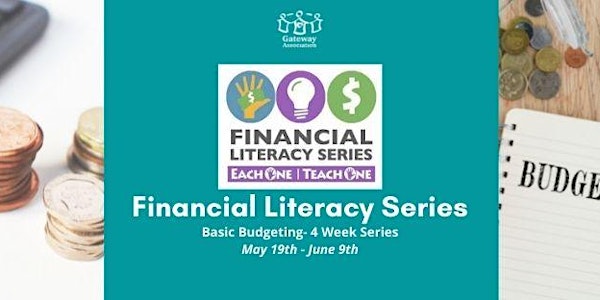 Financial Literacy Workshop Series (4-part Series)
Join us for this 4 week financial literacy series in partnership with the United Way
About this event
Starting May 19th, Gateway Association in partnership with United Way is offering the Each One Teach One Financial Literacy workshop series, a 4-week financial literacy program covering basic budgeting.
By registering, you will partake in 4 weeks of virtual and interactive zoom sessions, with new topics and lessons delivered each week! Upon completing the series, you will receive an official certificate of completion! The sessions start on Thursday, May 19th @ 7:00 pm and will continue every Thursday evening following until June 9th.
The topics that will be discussed each week are:
INTRODUCTION TO BASIC BUDGETING
✓ What a budget is and why should you create one
✓ Tips to help you reach your financial goals
✓ Ideas to help you adjust your spending
CREDIT CARDS & PREPAID CARDS
✓ How to get most from your credit card
✓ The difference between 'good' and 'bad' prepaid cards
✓ How to figure out the real cost of using credit
LOANS: COSTS & OBLIGATIONS
✓ Good reasons and bad reasons to borrow money
✓ How to decide what kind of loan is best for your needs
✓ About payment terms
DEBT SMARTS
✓ Tips to manage your debt
✓ When it makes sense to get a consolidation loan
✓ About the difference between consumer proposal and bankruptcy
Note: We suggest that participants have some experience with or basic knowledge of financial institutions.
If you require any accommodations, please let us know prior to the start date of the workshop series.
Thank you,
info@gatewayassociation.ca