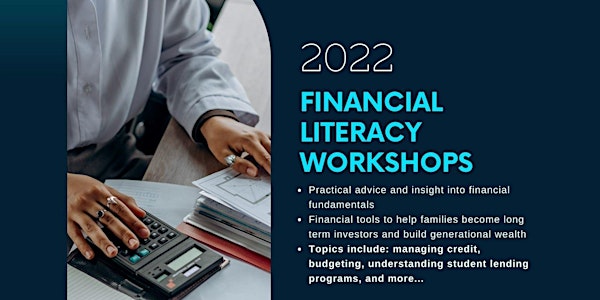 FINANCIAL LITERACY WORKSHOPS (JULY 23, AUGUST 13, AUGUST 20, 2022)
FREE 3-part Financial Workshop - July 23rd, August 13th, and 20th. 10:30 to 12 noon on ZOOM. Link to be provided after registration!
About this event
A series of Three Financial Literacy Workshops designed for students entering post-secondary, students currently in post secondary; graduating students and young adults. Also geared to anyone who wants to know more about how to Earn, Budget and Save in today's economy!
This is a free event! Register early! Register by July 19th!
Trainer will provide a thorough overview of the following:
How to make your money work for you - Understanding the banking system from a student/young adult lens.
Budgeting and Saving for the Future - Tips on Ways to find Money; Ways to save Money, Ways to stretch money
Avoiding the Credit Gap - Understand How to shift from a Cash mindset to a Credit mindset safely; How to Pay off Credit; How to Rebuild Credit.
Achieve the maximum benefit by attending all three sessions. If you cannot attend all 3, we invite you to register for the ones that you are able to attend. Please register by July 19th. ( Training dates are: July 23rd, August 13th and August 20th).
Presented by the Congress of Black Women of Canada, Ontario Region, with sponsorship from TD Bank Group