Description
Financing Strategies
Hosted by The Toronto CFO Leadership Council
Thursday, October 4, 2018.
7:30a.m. - 9:30 a.m.
NetSuite Office
5800 Explorer Dr., Mississauga ON, L4W5K9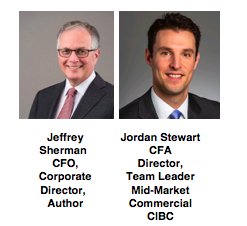 Program Description
We are so excited to offer our next session will be a Financial Strategies deep dive with our CFO community.
Learning Objectives
The importance of a finance strategy, and the value it creates for an organization

Common approaches to developing a finance strategy, including key stakeholders that should be involved

The risks and trade-offs to consider when developing a finance strategy

What you should be looking for in a financing partner

How to manage your financing relations

Best practices to manage expectations of your financing partner
Who Should Attend
CFO's and other senior finance executives who want to improve their leadership and communications skills to drive growth and new opportunities for their companies and careers.
Cost: Free for members! $50 .00 + $4.16 processing fee + HST for non-members
CFO Leadership Council members may attend this program for free. Non-member senior financial executives who are CFOs, Vice Presidents of Finance, Directors of Finance and Controllers (or the like) are welcome to attend this program at a one-time cost of $50 + processing fee + HST.
Please note that service providers or any executives who are not senior financial executives (CFOs, Vice Presidents of Finance, Controllers, Directors of Finance, etc.) will not be admitted attendance to this event. The CFO Leadership Council reserves the right to decline any registration.
More Information
Click here to learn more about CFO Leadership Council.
Click here to become a member.
For more information about this program or The CFO Leadership Council, please contact Stuart Pasternak at Stuart@cfolc.com.
Cancellation Policy

If you would like to cancel your ticket or request a refund, please contact Kim Naish (Kim@cfolc.com). Refunds are available up to 24 hours prior to the program.
---
About our Speakers

Jeffrey D. Sherman


Jeffrey D. Sherman, MBA, CIM, FCPA, FCA, has over 25 years' experience as a corporate director and executive in high tech, biotechnology/medical, financial services, and business services. From 2012 to 2017, he was CFO of Atrium Mortgage Investment Corporation where he helped take the company public and grow its assets from $180 million to over $600 million, raising $280 million of common shares and convertible debentures, and increasing the bank line from $40 million to $210 million. His interests include corporate governance, risk management and internal control, corporate finance, restructuring, start-up enterprises and initial public offerings.
Mr. Sherman is a popular presenter, and a frequent course director and course author for many organizations including provincial bodies of chartered professional accountants across Canada and has written many magazine articles and over twenty books including: Canadian Cash and Treasury Management, and Financial Instruments: A Guide for Financial Managers (published by Thomson-Reuters/Carswell), as well as Finance and Accounting PolicyPro and Information Technology PolicyPro (guides to governance, procedures, and internal control), and Strategy and Planning Toolkit for Small and Medium Businesses (all published or co-published by CPA Canada).
Jordan Stewart
Jordan Stewart is an experienced corporate finance professional with a focus on helping mid-market companies achieve their financing goals. Jordan leads CIBC's downtown mid-market commercial banking team, where through a partnership approach, helps clients develop and execute their financing strategies. Prior to this, Jordan was a director in CIBC's Capital Markets group where he managed a $2 billion diversified lending portfolio. Jordan earned a Bachelor of Science in Civil Engineering from Queen's University, a Masters of Business Administration from the University of Toronto, Rotman School of Management and is a CFA Charterholder.