Description
Final "New Year: New You!" Workshop of 2016!!
Free admission! Potluck! Door prizes!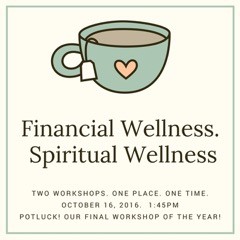 This is a continuation of the New Year: New You! monthly workshop series, and the last of the year. New participants are more than welcome and encouraged to attend! Individuals or couples are welcome! You are welcome whether you are in a relationship or are single.
This workshop will be held at Aphrodite Cooks.
201 Weston Road, Suite 101 (at St. Clair Ave W and Keele St)
Toronto, ON M6N 3P1
Street parking is available. If taking public transit, get off at Keele (Bloor-Danforth subway line) and take the 89 bus north towards Albion Road and get off at Weston Rd and McCormack St.
We have two fascinating experts this month, sharing two topics back to back-
Samuel Li, financial advisor, will be talking about Financial Wellness. He will be giving advice on how to my savvy with your money and plan for your future.
Samuel Li is a financial professional that helps his clients to grow their money, reduce their debts, and protect their net worth. Since he started his advisory practice in 2005, he has helped hundreds of families in planning for their financial future. By fulfilling the different licensing requirements, Samuel is capable of providing proper advice on investments, mortgage, and life insurance planning. A truly all-round financial service is one of the key reasons many of his clients enjoy working with him. In this "New Year, New You" workshop, Samuel will show you "5 Steps To Achieve Financial Wellness."
Dianna Guglietti will be talking about Spiritual Wellness. Dianna is a Reiki Master, Certified Hypnotist, Relaxation Therapist, Life Between Lifetimes and Past Life Exploration Practitioner. She has been practicing Reiki for over 5 years in Toronto. She combines hypnosis techniques and relaxing earthy sounds in her treatments to assist in the healing process.
Dianna can help you achieve Spiritual Wellness by helping you to release negative blocks, enhance self-confidence and transform negative energy.
Also, Andrea Rossi, bioenergetic practitioner and essential oils expert, will briefly show us how essential oils can help with these areas of wellness.
Andrea is a Registered Holistic Nutritionist, Registered BioEnergetics Practitioner, and the founder of Holistic Harmony Health & Wellness. One of the tools she uses in her practice are Certified Pure Therapeutic Grade Essential Oils for they work on a cellular level to help support and heal.
Financial Wellness and Spiritual Wellness Agenda:
1:45pm- Open networking, start potluck
2pm-2:30pm- Samuel presentation on Financial Wellness
2:30pm-3pm- Dianna presentation on Spiritual Wellness
3pm-3:15pm- Andrea presentation on essential oils
3:15pm-3:30pm- Potluck and Presentation of donation to April, from Holiday Helpers
3:30-3:45pm- Network/ small group discussion
3:50-4:00pm- Check-out/ closing discussion
There is no entrance fee for this last workshop. Instead, we will have some items for sale to raise money for Holiday Helpers and we are doing a potluck to celebrate this being our last workshop for 2016! Feel free to bring whatever you'd like, but be mindful of nut allergies, please label your item accordingly. :)
To register for this October 16th workshop, please go through EventBrite or MeetUp.
Looking forward to seeing you there!
Melissa :)