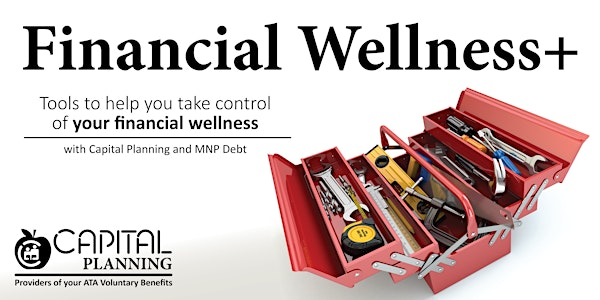 Financial Wellness+ with Capital Planning and MNP Debt
Financial Wellness+ is built to give you tools to take control of your financial situation.
Date and time
Wed, May 3, 2023 2:30 PM - 4:30 PM PDT
About this event
What would you do if things suddenly went very, very badly in your financial life? If you or your partner were laid off? Or you got sick and couldn't work? Or your relationship breaks down? Or your debts just got out of control? If your income was interrupted for even a couple of months, could you handle it?
The ATA Financial Wellness Sessions were built to give you a jump start on the knowledge you need to get things together. You'll walk out with simple things you can put in place right away and the knowledge of how to avoid some of the traps people can fall into.
Part one: Investing for your future. How to get started on saving; best practices for saving and investing; an intro to government programs; how to address the big risks that can really derail your plan.
Part two: Debt and budgeting. Tips for budgeting and saving; the importance of an emergency fund; how to maintain a good credit score. It will also teach you about debt – how to handle it, how to address it, tools to access if things get out of control.
The presenters:
Rick Harcourt is a Professional Financial Advisor who leads the team that provides the ATA Voluntary Benefits Program to teachers across Alberta – a suite of financial solutions built specifically for teachers across the Province. This includes the ATA Group RRSP / TFSA, ATA Group Critical Illness and ATA Group Life / Mortgage Insurance. Rick and his team work with thousands of teachers across Alberta to help them prepare for the future, and is a featured speaker at ATA events including the ATA Pre-Retirement Seminars put on by Teacher Employment Services.
Nicole Polak is a Chartered Professional Accountant with over 18 years of experience in helping individuals and families find creative solutions to their financial difficulties. She is a Vice President and Senior Manager for Insolvency at MNP LTD, a national leader in accounting, tax and business services across Canada.