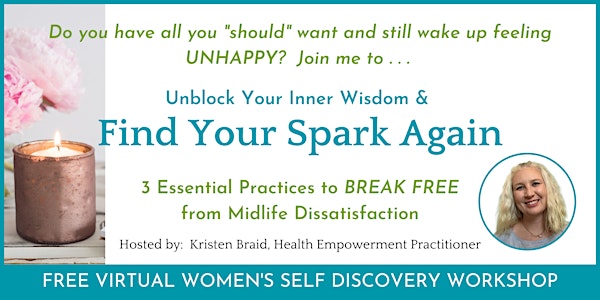 Multiple dates
Find Your Spark Again - Women's Self Discovery Workshop - Halifax
Learn what is blocking you and 3 Essential Practices you can start using now to overcome midlife dissatisfaction and find your spark again!
Date and time
Sun, Mar 12, 2023 3:00 PM - Sun, Jun 18, 2023 5:00 PM ADT
Location
Halifax Virtual Via Zoom Halifax, NS B3J Canada
About this event
Attention: Women Experiencing Midlife Dissatisfaction
Do you have everything you "should" want in life and still wake up every morning feeling UNHAPPY?
Has life become uninspiring and you're not sure why?
If so, you may relate to the following:
You are deeply unhappy despite having a life that looks great on paper
You avoid talking about how you feel because you don't want to come across as ungrateful for what you do have
You feel like there is something more inside of you that wants to come out but can't put your finger on what it is
You keep thinking - "There has got to be more to life than this!"
My Dear,
I hear you.
I was there.
It's confusing!
Your spark is a distant memory but it's difficult to know exactly what happened.
Or - you have had a major life event happen that drained you and you haven't found your way back to yourself . . . yet.
The good news is, once you notice this is happening, you can use your awareness to Find Your Spark Again!
The truth is - these difficult moments we fall in to are a sign that life is asking us to grow. To shake out the old and make way for the new. It is normal! You haven't done anything wrong. You are exactly where you need to be. I got you!
Your spark is there, waiting for you to find her underneath all of the fog, confusion, heartache and disappointments.
What I would like to offer you is a safe and supportive space to slow down, connect with yourself, to be seen, heard, and nourished, so you can feel like yourself again. Breathe in to that - doesn't that sound nice?
I invite you to join me in this workshop to:
uncover the areas you don't even know are keeping your spark hidden
learn the 3 essential practices to break free from midlife dissatisfaction
unblock your inner wisdom so you can start feeling like yourself again!
If there is one thing I know - you are not alone in this! Every women out there hits a point in her life where things just don't feel right anymore.
It's easy to get caught up in all the "should's" that we can't hear the inner wisdom that is always there guiding us through this life.
Are You Ready to Unblock Your Inner Wisdom & Find Your Spark Again???
If your answer is a resounding YES PLEASE! hit the registration button and join other heart-centered women who are ready to go on this journey with you.
This workshop is for you if you:
Are ready to find your spark and need guidance to get there
Are ready to nourish yourself so you can feel good about your life again
Want to let your inner voice guide the way
Would love to experience healing meditations and journalling exercises
Are comfortable being online and want to access help from the comfort of your own home
What you need to get the most out of the workshop:
Journal and pen
A quiet space with out any distractions
Anything else you need to be comfortable - a drink, pillows, blankets, etc
This session will take place on Zoom. More information on how to join will be provided prior to the workshop.
OK Loves, if this resonates with you I hope you said yes! This is going to be a really nourishing workshop because I know that's what you need right now and I would love to see you there. Please get in touch if you have any questions. See you soon!
With love,
Kristen
Soul Inspired Health & Healing
Know Yourself. Love Yourself. Be Yourself.
. . . one aha moment at a time.
About the organizer
Kristen empowers women to know, love and be their true selves, so they can share their unique gifts with the world without sacrificing their own well-being.