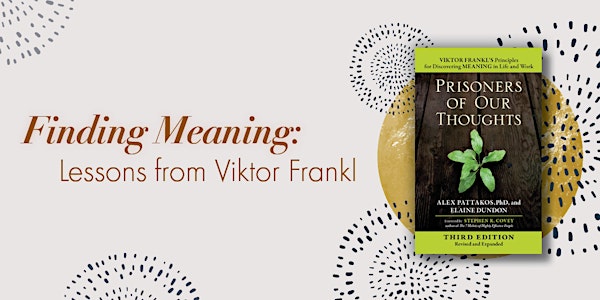 Finding Meaning: Lessons from Viktor Frankl
Have you ever wondered how to find meaning in your life?
About this event
Join the Global Meaning Institute as they outline Frankl's life philosophy, their book Prisoners of Our Thoughts, and how it can apply to your life. Viktor Emil Frankl (26 March 1905 – 2 September 1997)was an Austrian psychiatrist who founded logotherapy, a school of psychotherapy that describes a search for a life's meaning as the central human motivational force. Frankl published 39 books. He was a Holocaust survivor. The autobiographical Man's Search for Meaning, a best-selling book, is based on his experiences in various Nazi concentration camps.
Presented by:
Alex Pattakos, Ph.D., aka "Dr. Meaning," Founder of the Global Meaning Institute, Political Scientist, Philosopher, Professor, International Best-Selling Author.
Elaine Dundon, Philosopher of Meaning, Author of three international best-selling books on Innovation and Meaning, Founder of the Global Meaning Institute.
Online
January 31, 7:00 pm - 8:00 pm
The personal information collected from you on this form will only be used for the purpose of Vaughan Public Libraries' program and/or event registration. Your personal information will not be shared with outside organizations, except as indicated in the Privacy Statement.