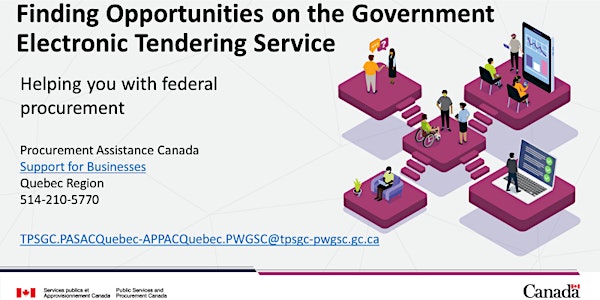 Finding Opportunities on the Government Electronic Tendering Service (Fr)
Finding Opportunities on the Government Electronic Tendering Service
By Soutien en Approvisionnement Canada - Région du Qc
Date and time
Tue, Feb 21, 2023 7:00 AM - 8:30 AM PST
About this event
CanadaBuys is where you will find federal bid opportunities and related procurement information. This webinar provides an overview and demonstration of the CanadaBuys website's key features and functions, including how to:
Search for tenders, contract history and standing offers and supply arrangements
Follow opportunities to keep informed about new tender notices and amendments
Find additional sources of information for suppliers
NOTA : This webinar will take place in French
***If you need adaptation and accessibility measures or if you have difficulty registering, please contact us as soon as possible (at least 72 working hours before the event):
Procurement Assistance Canada
Email: tpsgc.pasacquebec-appacquebec.pwgsc@tpsgc-pwgsc.gc.ca
Phone : 418-571-3044
About the organizer
Le rôle du Soutien en Approvisionnement Canada (SAC) consiste à travailler avec les PME, telles que la vôtre, en fournissant une aide et des renseignements sur la façon de vendre vos biens et services au gouvernement du Canada. Pour ce faire, nous écoutons vos préoccupations, répondons à vos questions et cernons les occasions d'affaires en vous offrant des sessions d'informations sous forme de séminaires et webinaires. Vous trouverez davantage d'information sur ceux-ci sur notre portail de l'approvisionnement fédéral à l'adresse suivante : https://achatsetventes.gc.ca/calendrier-des-evenements .
Pour obtenir plus d'informations sur nos services, vous pouvez appeler la Ligne Info nationale au : 1-800-811-1148 ou communiquer avec le Soutien en Approvisionnement Canada (SAC) à la région du Québec au 514-210-5770, ou à TPSGC.PASACQuebec-APPACQuebec.PWGSC@tpsgc-pwgsc.gc.ca
 -------------------------------------------------------------------------------------------------------------------------------
The role of Procurement Assistance Canada (PAC) is to work with enterprises, such as yours, to provide assistance and information on how to sell your goods and services to the Government of Canada. For this purpose, we listen to your concerns, answer your questions, help you understand the process of purchase, and identify business opportunities by providing you with free information services through seminars and webinars. Please visit our website at https://buyandsell.gc.ca/event-calendar
 
For more general information on our sessions and office services, please call the National Info Line at: 1-800-811-1148 or contact Procurement Assistance Canada (PAC) in the Quebec Region at 514-210-5770 or at TPSGC.PASACQuebec-APPACQuebec.PWGSC@tpsgc-pwgsc.gc.ca