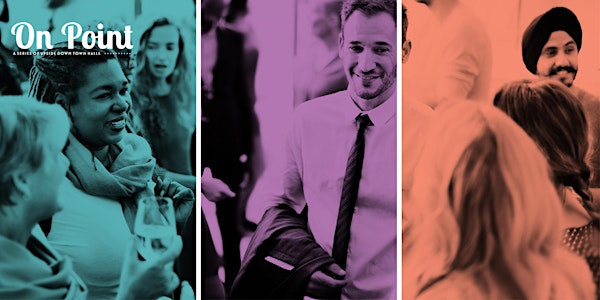 Finding our YIMBY. Reflections on affordability, housing & the way forward
When and where
Location
The Laurel Packinghouse 1304 Ellis Street Kelowna, BC V1Y 1Z9 Canada
Description


On Point Series #1: Finding our YIMBY. Reflections on affordability, housing and the way forward
On October 3rd at 7pm we will gather for the first On Point hosted in support of Imagine Kelowna. Our opening topic will be: Affordability.
Affordable housing dominates headlines -- Is affordable housing really affordable? How do we cool the jets on a hot housing market? Residents question impact of housing project on property values.
These are all provocative questions, but how do we move beyond the headlines? How do we move from NIMBY to YIMBY?
NIMBY -- Not In My Backyard -- is the phenomena of citizens supporting something in principle, but when it comes to suggesting that same thing in their neighbourhood, it is met with severe opposition and push back. Let's face it, we've probably all had NIMBY moments. YIMBY -- Yes In My Backyard -- is the opposite -- it's about determining what we can say yes to as a community in an inclusive way. Instead of saying no, let's figure out the conditions required to embrace change and say YES.
Our starting point for the evening is to provide a greater understanding of the entire spectrum of housing. It is complex, ever changing and impacts the social and economic fabric of our community. What is our collective vision when it comes to housing in the Okanagan? We need to say yes to something. What will that be?
Please join us for a casual evening of local beer, wine, food, music, and art -- where we will hear from industry experts and you -- community members interested in the future of Kelowna.
*On Point is brought to you by Urban Systems Ltd. and in support of the City of Kelowna's community-centred initiative, Imagine Kelowna.
Schedule for the evening:
7:00pm -- Doors open: Get yourself a drink and help yourself to appies from FSH
7:30pm -- Programming Commences with Opening Remarks
-- Poetry by Erin Scott
-- Stories from: Laurence East, Director of Metro Community, Randall Shier, President of the Mission Group, Ashley Ramsay, CEO of Yeti Farm Creative. [bios coming soon]
8:15pm -- Let's hear from you
8:30pm -- Moderated Discussion with our Panel
9:00pm -- Thank-you and Closing Remarks

Imagine Kelowna is about our future. It is our collective vision for our community.
How can we move from vision to reality when shaping the very city we work and play in? Mayor, Council and City staff will do their part – they will use our vision to inform investments, efforts and decisions within our community. Awesome. That's one piece of the puzzle. But we, as community members, have a part to play as well.
On Point: A Series of Upside Down Town Halls is your invitation to participate in building the future of Kelowna through four evenings of open dialog amongst community members. Together, we will discuss relevant topics and create connections that deepen our community.
We can be provocative yet balanced by inviting better conversation. On Point is about sharing diverse stories from interesting people and mixing facts with opinions, emotions and feelings.
What are the timely and gritty topics that need greater attention in the Okanagan?
Affordability - What does it mean for us to house a diverse workforce that represents our diverse community needs? (Monday, Oct 3, 2016)

Economic Development - What does economic resilience mean for our region, our community? Are there tough choices ahead that frame our economic future? (Tuesday, Oct 25, 2016)

Climate Change - Should we foster greater responsibility towards our environment, our climate? Perspectives about the villains and heros in our climate story. (Wednesday, Nov 16, 2016)

Transportation - Are we stuck, literally? How are we getting around… and getting along in the process? Do we need a new relationship with transportation and mobility in our region? (Thursday, Dec 8, 2016)
Please join us for one or all of these FREE evenings throughout the Fall at The Laurel Packinghouse. More details to come.