Finding your way in a time of uncertainty: Informatics & the COVID-19 Hub
Learn how Nova Scotia Health supported its pandemic response through the coordination of the COVID-19 Hub website.
About this event
~From Nova Scotia Health (Clinical) Information Management & Technology~
Nova Scotia Health (NSHA) Information Management & Technology is pleased to welcome guest speakers from NSHA's Provincial Library Services, Policy Office and Interprofessional Practice and Learning teams to share their experience about how they supported the organization's response to the pandemic through the development of the COVID-19 Hub - https://covid19hub.nshealth.ca/covid-19.
Ways to Attend this Session:
Join on-line via Webex - https://nsgov.webex.com/nsgov/onstage/g.php?MTID=e14df0446ca7efc98e7e1f96104e458ee
If you don't have the Webex application on your desktop, please click " go here" and "run temporary application".
Online password: letstalk (if joining by mobile Webex app)
Phone: Canada Toll (Halifax) +1-902-706-7113
About the Presenters
Chelsey Millen is a Content Management Analyst with the Policy Office, and the Hub Technician. As a library technician and an editor, Chelsey has a keen interest in the many ways we create, consume, and communicate information and knowledge. She holds a BA in English from Dalhousie University, and a Diploma in Library and Information Technology from Nova Scotia Community College.
Kate Mercer is a Professional Practice Lead, Manager with Interprofessional Practice and Learning. She was redeployed to the COVID-19 Hub team as part of NSHA's pandemic response. Kate's passions include innovative, evidence-informed approaches to health care professionals' education and practice development, as well as facilitating collaborative initiatives. A Registered Nurse by profession, Kate received her BSc in Nursing from Dalhousie University and holds a Masters in Nursing from Athabasca University.
Katie Puxley is the Librarian Educator, Access Services for NSHA and the site lead for the Health Science Library at the Halifax Infirmary, Central Zone. As part of NSHA's pandemic response, she is the library lead for the COVID-19 Hub. Katie has always fascinated by the intersection of science and culture. She is a member of the MathWeave research group, which examines making of art as a way to conceptualize information and teach scientific concepts. She holds a BA in the History of Science & Technology and Mathematics from the University of King's College and an MLIS from Dalhousie University.
Michelle Helliwell is the Manager of the NSHA Policy Office and Policy Office Lead for the COVID-19 Hub. She has a keen interest in how people engage with information — how it's created, used to inform decision making, and transformed into knowledge — from complex organizational policy to a seemingly simple Facebook post. Michelle holds a BA in History from the University of King's College, and a Masters of Library and Information Studies from Dalhousie University.
Joanne Hodder is the Provincial Manager of NSHA Library Services and was co-lead with Michelle Helliwell on the COVID-19 Hub. Joanne is interested in ensuring that NSHA staff can immediately find accurate information through a seamless access environment; the COVID-19 Hub being an excellent representation of such a tool. Joanne holds a BA from Acadia University, a Master of Library and Information Studies (MLIS) from the University of Botswana, and a MLIS from the Dalhousie University.
About Let's Talk Informatics
Let's Talk Informatics is a monthly Informatics Grand Rounds series dedicated to exploring the use of information technology in health care to transform patient care and drive clinical outcomes. The series is approved by Digital Health Canada as a Continuing Education Provider enabling participants to claim 1CE hour for each presentation attended. It is also certified by the College of Family Physicians of Canada and the Nova Scotia Chapter for one Mainpro+ credit by providing content aimed at improving computer skills as applied to learning and access to information.
We hope you can attend!
Let's Talk Informatics website
Questions? Email letstalkinformatics@nshealth.ca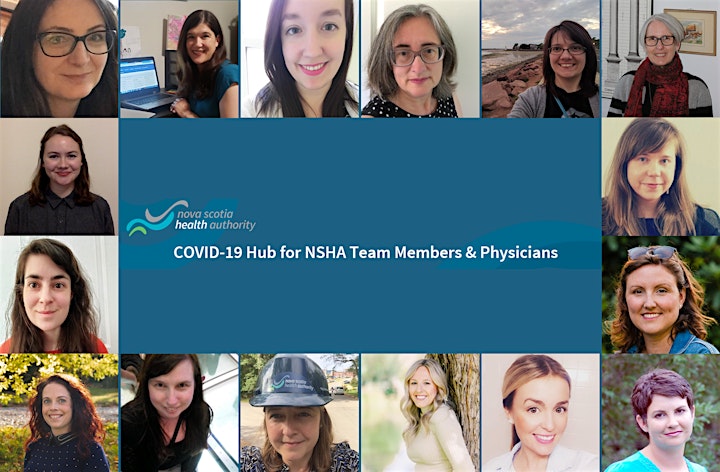 Organizer of Finding your way in a time of uncertainty: Informatics & the COVID-19 Hub