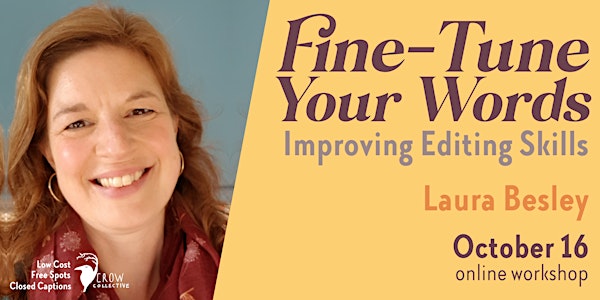 Fine-Tune Your Words: Improving Editing Skills Writing Workshop
Through examples and exercises learn how to make the most of editing your fiction.
About this event
What will be covered in this workshop?
An interactive workshop wherein participants will be given some tools for improving their editing skills, as well as having an opportunity to edit a piece of their own work (or an example provided) and share with others if they wish.
The workshop will open with some editing examples from my own work. I will invite the participants to make suggestions on how to improve the piece and share with the group.
This will be followed by the exploration of editing tools, such as:
- Using strong verbs;
- Using dialogue and exposition to build character(s);
- Using titles to strengthen a piece.
After this, the participants will be invited to use these tools to edit a piece of their own work (or an example provided) and then discuss in break out rooms.
Finally, the workshop will end with highlighting words and phrases to cut. The participants can return to the piece they used earlier, or work on a different draft to try this exercise.
Questions will be welcome throughout.
Things for participants to take away:
o New tools to edit old drafts;
o New confidence to cut out old words.
Who is teaching this workshop?
Laura Besley is the author of micro fiction collection, (Un)Natural Elements (Beir Bua Press, 2021), 100neHundred (Arachne Press, 2021), and flash fiction collection, The Almost Mothers (Dahlia Books, 2020). Having lived in the Netherlands, Germany and Hong Kong, she now lives in land-locked central England and misses the sea. She tweets @laurabesley
When does this workshop happen?
October 16, Sunday: 6 AM PDT / 9 AM EDT / 2 PM BST / 6:30 PM IST
How long is this workshop?
Two hours.
How is this workshop presented?
This workshop is online, live, and interactive. Participants are encouraged (but not required) to keep their video cameras on, as online events are much more fun when we can all see each other. We'll gather on Google Meet, which is very similar to Zoom and has built-in closed captioning. You will receive the link two days before the workshop.
Will this workshop be recorded?
No, this workshop will not be recorded.
Are there more workshops?
You bet! Just click here to see the Crow Collective workshops open for registration.
Do you have a mailing list?
Yes - click here to sign up for my free, biweekly mailing list.
Do you have a podcast?
Yes - your favourite writing game is now a daily podcast. I'll give you a word every thirty seconds, and you include that word in the sentence you're writing. It's that simple. Click here to come play!
What is the Crow Collective?
Crow Collective workshops are by the writing community, for the writing community. The prices are low so they are more accessible, and there are two free spots (if needed).
Why can't I access the ticket button using the Apple Eventbrite app?
This is a decision on Eventbrite's part. You should be able to access the ticket button using the website instead. If you're still having troubles, feel free to get in touch.