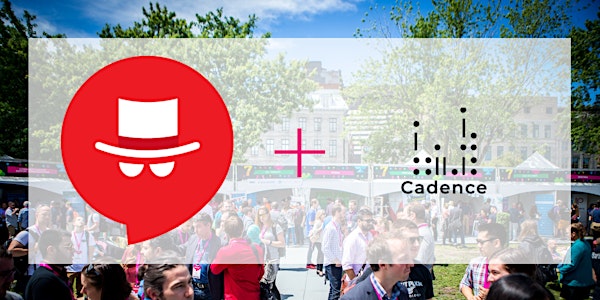 Fintech Cadence @HackerFest 2019
When and where
Location
Parc Jean-Drapeau Jardin de l'Angleterre, Parc Jean-Drapeau Montréal, QC Canada
Description
Startupfest July 12-13, 2019
**Please Note: All tickets are non-refundable, non-transferable. ALL PRICES IN CAD$.
**Veuillez Noter Que: Tous les billets sont non remboursables et non transférables. TOUS LES PRIX SONT EN $CAD.
HackerFest kicks off officially at 6PM, but all participants will have access to the Startupfest venue as of 4PM. The event then will continue overnight for anyone who wishes to stay!
Challenge: Fintech Cadence
HackerFest is an outdoor, multi-topic, 24h innovation marathon for developers, designers, inventors and all-around creators.
In the spirit of a Nuit Blanche, it will be an exciting over night hackathon taking place in a big tent in Parc Jean-Drapeau, just after StartupFest!
Participants will have access to the latest APIs and support from key players in the industry. The challenges have been proposed by companies that are facing these issues right now. Whether you're a newbie or a pro, this event will expose you to a whole new world of creation.
Here are the 5 challenges for this year:
FINANCE IN 4D (presented by Croesus): Create an AR/VR-based tool that comprehensively, modularly and seamlessly presents different information pieces, data sources and details to wealth management professionals.
FINFUTURE (presented by DataCup): Build an everyday banking/investment tool for the general consumer that utilizes both non-financial information (geolocation, satellite imagery, product reviews, etc.) and financial information (open-banking APIs, other open source, etc).
MACHINE LEARNING IN THE NEIGHBOURHOOD (presented by Finalytics): Use ML-enabled image recognition to extract features from and cluster satellite images for real estate in Montreal.
ANALYZE CRYPTOCURRENCIES (presented by BCC): Build a blockchain forensics tool/process that identifies patterns pertaining ownership of coins.
TRAVEL NOW, PAY LATER (presented by Travel Now): Build a real-time payments process to ensure that funds provided by a travel lender are used for the specific purpose of travel only.

Registration is 10$ and includes entrance, dinner, breakfast and snacks.
For more information, visit the website at www.startupfestival.com/premium/hackerfest/
Pour plus d'informations, visitez le site web au www.startupfestival.com/premium/hackerfest/

For any questions please contact pascal@archeinnovation.ca or daria@startupfestival.com
Pour toute question, veuillez contacter pascal@archeinnovation.ca ou daria@startupfestival.com

Cancelation Policy: Tickets are non-refundable and non-transferable
Politique d'annulation: Les billets sont non remboursables et non tranférables.