Welcome to our 3rd Edition of Fintech Drinks 2022!
About this event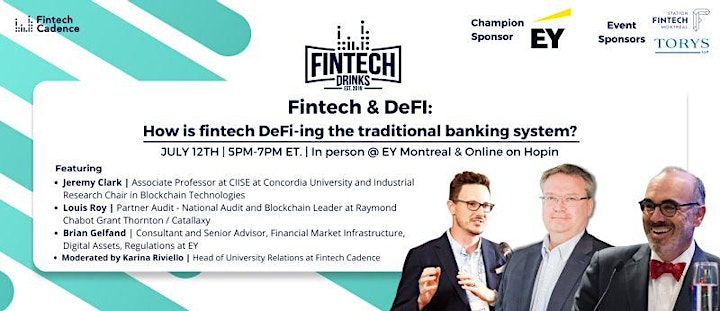 Welcome to our 3rd Edition of Fintech Drinks 2022!
For our July virtual edition, we will be discussing how DeFi is impacting the financial sector and how Financial institutions and fintech players will react to those changes.
This July edition will be offered in a hybrid mode: We'll be hosting the edition in-person at the EY offices in downtown Montreal (Address: 900 Boul. de Maisonneuve Ouest, 23rd Floor, Montreal, Quebec H3A 0A8) and it will also be available online for virtual access.
Please make sure you register through our Hopin link beforehand
(https://hopin.com/events/fintech-drinks-fintech-defi-how-is-fintech-defi-ing-the-traditional-banking-system)
*Note: In-person option will be charged.
We're thrilled to welcome:
Jeremy Clark | Associate Professor at CIISE at Concordia University and Industrial Research Chair in Blockchain Technologies
Louis Roy | Partner Audit - National Audit and Blockchain Leader at Raymond Chabot Grant Thornton / Catallaxy
Brian Gelfand | Consultant and Senior Advisor, Financial Market Infrastructure, Digital Assets, Regulations at EY
Moderated by Karina Riviello | Head of University Relations at Fintech Cadence
The schedule will follow:
5pm-5:30pm: Doors open for pre-panel networking
5:30pm-6:30pm: Kick-off and Panel
6:30pm-7pm: Networking
2 beverage coupons are included in your ticket. Hors-d'oeuvres will also be available. We look forward to hosting you.
The Fintech Cadence Team