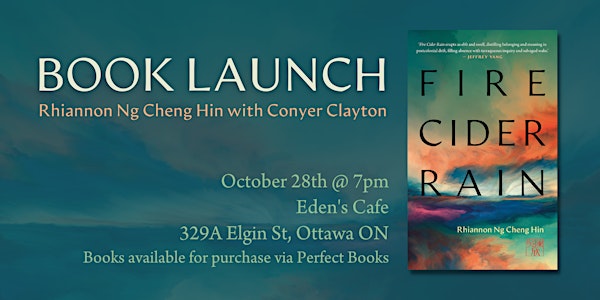 Fire Cider Rain by Rhiannon Ng Cheng Hin Launch
The in-person book launch for Fire Cider Rain by Rhiannon Ng Cheng Hin
When and where
Location
Eden's Cafe 329A Elgin Street Ottawa, ON K2P 1M5 Canada
About this event
Join us for the launch of Fire Cider Rain, the debut poetry collection from Rhiannon Ng Cheng Hin.
There will be readings and books on sale from Perfect Books.
Rhiannon will be joined by co-reader Conyer Clayton.
Poetry that navigates the science of cold waterways to consider the warmth of the poet's Chinese-Mauritian family ties.
Fire Cider Rain is about the limits to which shared cultural and geographic histories can hold a family together. It follows the lives of three Chinese-Mauritian women on the course of dispersing, settling, and rooting over northern landscapes, and the brittle family bonds that tie them to one another and to their home country. Told from the perspective of the youngest of the three women, Fire Cider Rain follows the events leading up to and following the death of her grandmother, an ex-lighthouse keeper and matriarch whose fractured relationship with her own daughter haunts the narrator's life in soft, painful aftershocks. As she navigates the cold cities and waterways of Southern Ontario, our narrator struggles with conflicting desires to run toward and flee from her island identity, which grows ever distant, ever more difficult to find her way back to.
Rhiannon Ng Cheng Hin was born in Edinburgh, Scotland, and lives in the Gatineau Valley in Quebec. She is a graduate student at the University of Ottawa studying for a specialization in Environmental Toxicology. Her poetry has been published in Gutter, The Malahat Review, Grain, Arc Poetry Magazine, and elsewhere, and she currently serves as Associate Poetry Editor with Plenitude Magazine . Fire Cider Rain is her debut collection.
Conyer Clayton is an award-winning writer and editor whose multi-genre work often explores grief, disability, the climate crisis, and gendered violence through a surrealist lens. She is the author of But the sun, and the ships, and the fish, and the waves. (A Feed Dog Book, Anvil Press) and We Shed Our Skin Like Dynamite (Guernica Editions, 2020, Winner of the 2021 Ottawa Book Award), and many solo and collaborative chapbooks. She is the Nonfiction Editor for untethered magazine, the Social Media Assistant for Canthius and a member of VII; an Ottawa-based poetry collective. Her poetry, essays, and criticism appear in Room Magazine, filling station, Canthius, Arc Poetry Magazine, CV2, The Capilano Review and others.