Senior Helpers Markham York Region LIVE where we discuss various matters related to Seniors and Dementia Care and Support
About this event
Fire Safety Webinar For Seniors and Older Adults
According to the Canadian Safety Council, older adults face fire risk factors which do not affect the young. Weaker physical and sometimes mental capabilities, for example having Dementia can make it harder to identify and respond to a fire, and create a higher risk that a fire will start.
There are special precautions that older adults, their caregivers, and all Canadians can take to protect yourself and your home from fire.
Join Senior Helpers in Upcoming Fire Safety For Seniors Webinar on Tuesday October 26th at 5:30pm EST. Link to Register is below
FIRE SAFETY TOPICS
In the News and Statistics on Fire Safety
Tips to avoid fire
Cooking hazards
Electrical Safety
Smoking
Lighters and Matches
Candle Safety
Installing and maintaining Fire Alarms
Ways to keep safe for Seniors and Seniors with Dementia
To Get Notifications for Upcoming Dates, Event Invites and copies of past Webinars Sign Up For Our Newsletter contact sarar@seniorhelpers.ca
Want more information about webinar or have question about our services call us directly at 905 294 3155
By Registering for the webinar you are subscribing to our newsletter for upcoming webinar announcements. You pay unsubscribe at anytime.
Senior Helpers Markham, York Region, Ontario Canada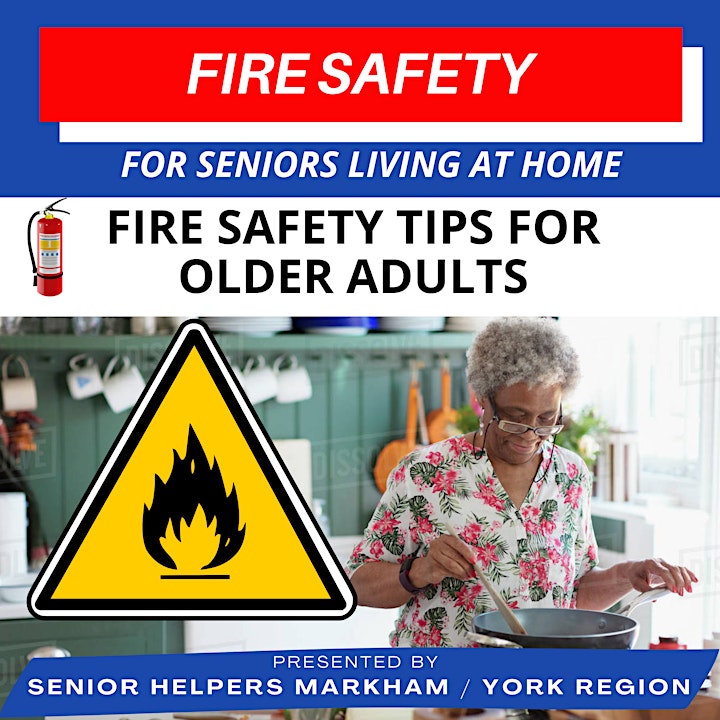 Organizer of Fire Safety For Seniors and Older Adults I Live Webinar