Firecracker Department welcomes you to its Mentorship Series event - a spotlight on INDIE PRODUCERS!
About this event
Firecracker Department welcomes you to the third in its Mentorship Series - a spotlight on INDIE PRODUCERS! Hosted by Naomi Snieckus, Founder of Firecracker Department (Second City, Mr. D, Disney's ZOMBIES) and the Mentorship Department team.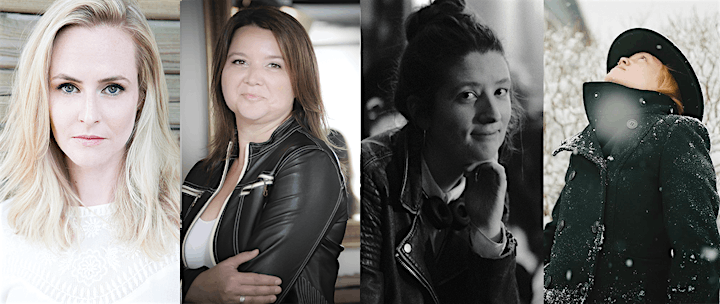 Featuring Ashleigh Rains ( Canadian Strain, Things We Feel But Do Not Say), Marina Cordoni ( Never Saw It Coming, American Hangman, Love on the Air), Mackenzie Donaldson (Orphan Black, Citizen Bio, Snowpiercer), and Andrea Walter ( Empty By Design, The Red Man). This Zoom event promises to be an amazing opportunity to connect with these talented women in the industry and learn more about their craft.
During the event, attendees will be divided into small breakout rooms where you will have the opportunity to speak directly to each of the Mentor Producers, learn more about their craft, and how they got where they are. This is an interactive session where you will be able to engage directly with our guests and ask them anything! We'll also have moderators on hand to keep the conversation flowing, if necessary.
Your ticket will also give you the opportunity to network with other attendees to form important new connections with your peers. We hope that not only will you be inspired by these incredible writers, but that you will also form valuable connections and friendships amongst yourselves.
We are increasing accessibility to this event by utilizing a sliding scale for ticket prices. A full-price ticket to this event is $35. By purchasing a ticket for $45, you sponsor an additional seat for $25.
Limited ticket quantities are available at each price point. Please consider your financial privilege when purchasing - if you can afford to pay more, please do! Also, if you have any accessibility requirements, please contact the event organizer prior to the event.
~~~~~~~~~~~~~~~~~~~~~~~
T&Cs
This event is only for those who identify as female, or non-binary.
Attendees are expected to behave respectfully towards all mentors and other attendees. Racism, sexism, and any and all other -isms will not be tolerated and we reserve the right to remove you from the event without warning, if necessary. This is a time for learning, not for pitching. This event will be recorded for future use. If you wish to attend but do not wish for your likeness to be used in future Firecracker Department materials, please contact the event organizer.
All sales are final - we will not be providing refunds for any reason, including in the unlikely event that a mentor cannot attend.
By purchasing a ticket, you agree to these terms and conditions.