What Is The Next Chapter For Digital Securities?
About this event
Are Stablecoins, Money Market Tokens, and Structured Products The Next Big Thing in Digital Securities?
Digital securities – an electronic representation of shares, equity, debt on public blockchain – have attracted the attention of the world's largest banks and corporations for their potential to reduce transaction costs and friction, increase liquidity and transparency in capital markets.
Recently, World Bank Group, JPMorgan, and Societe Generale have made headlines with debt securities and stablecoins. Despite leading experts worldwide predicting the global expansion of digital securities and interest from institutional players is growing – we are still far from mainstream adoption.
iComply is hosting a "Digital Securities: 2020 & Beyond" fireside chat to discuss the current state of the digital securities industry, the role of regulation in mass adoption, as well as benefits and pitfalls of putting structured financial instruments onto public blockchains:
Overhyped or underestimated: what is the real value that digital securities can bring to the financial industry
Digital securities regulation: what are the key regulatory updates and trends to watch related to digital securities?
The future of digital securities: is institutional adoption happening and when?
Register below for free to join the discussion with the leading experts in finance and blockchain. Hosted by Blockchain Center, our panelists include:
Joel Telpner, Senior Partner, Sullivan & Worcester
Matthew Unger, CEO, iComply Investor Services
Cathy Yoon, Special Counsel, Katten Muchin Rosenman
Arnaud Salomon, CEO, Mt Pelerin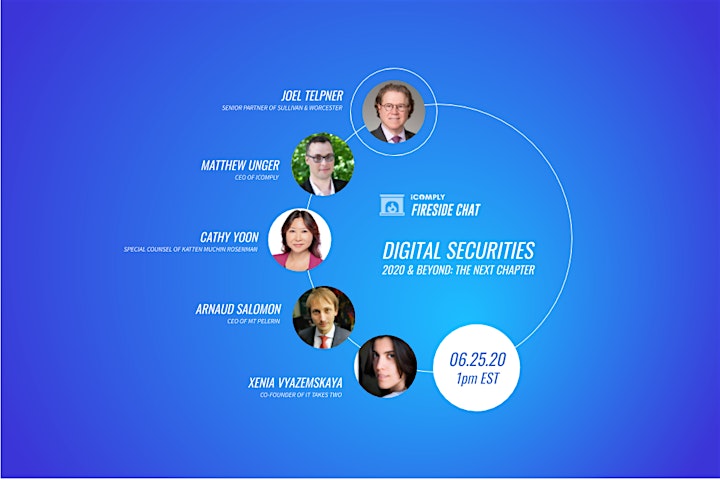 Organizer of Fireside Chat – Digital Securities: 2020 and Beyond
iComply Investor Services Inc. (iComply) is a Regtech company that provides fully-digital KYC and AML compliance solutions for non-face-to-face financial and legal interactions. iComply enables financial services providers to reduce costs, risk, and complexity and improve staff capacity, effectiveness, and customer experience. By partnering with multinational technology vendors such as Microsoft, DocuSign, Thomson Reuters, and Refinitiv, iComply is bringing compliance teams into the digital age. Learn more: www.icomplyis.com