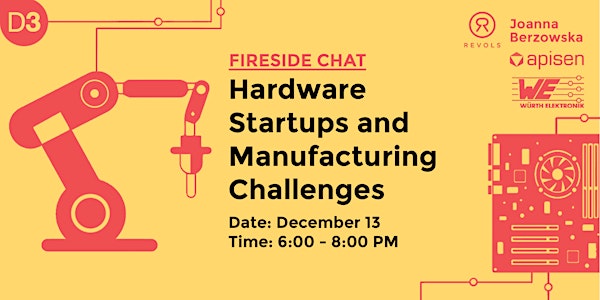 Fireside Chat: Hardware Startups and Manufacturing Challenges
When and where
Location
Faubourg Tower Suite 600 1250 Rue Guy Montréal, QC H3H 2L3 Canada
Description
Are you building or thinking of building a hardware startup? District 3 will be hosting a Q&A panel with the founders of our most successful hardware startups.
Ryan Desgroseilliers from Apisen, and Daniel Blumer from Revols, and Joanna Berzowska Chair of Concordia's Desing and Computational Arts know better than anyone what goes into founding and building a hardware startup. Get the opportunity to pick their brains, understand what tricks they've learned along the way and the challenges they faced
Moreover, Wurth Electronics will be joining the panel to touch on the different manufacturing avenues and challenges you will face, as well as how to position yourself successfully.
About the Speakers
Apisen - a company specializing in the production of specialized equipment for emergency services- Ryan Desgroseilliers: Is a Concordia alumnus and one of the founders of Apisen, which originally launched as part of the Startup Programs at District 3. Ryan has been a speaker at several startup events across Montreal, where he discussed the hardware development process, government subsidy and support programs, corporate structures, and incorporation, and the unique challenges faced by hardware-based businesses in the startup ecosystem.
Revols a wearable technology company who created the world's first custom-fit earphones - Daniel Blumer: Daniel earned his MBA from Queens University and has an extensive background in finance and sales.Daniel's passion and enthusiasm serve as the driving force behind the entire Revols team.
Joanna Berzowska: is (a) Associate Professor of Design and Computation Arts and Director of the Graduate Certificate Program in Digital Technologies at Concordia University, (b) a member of the Hexagram Research Institute in Montreal, and (c) the founder and research director of XS Labs, where her team develops innovative methods and applications in electronic textiles and responsive garments.