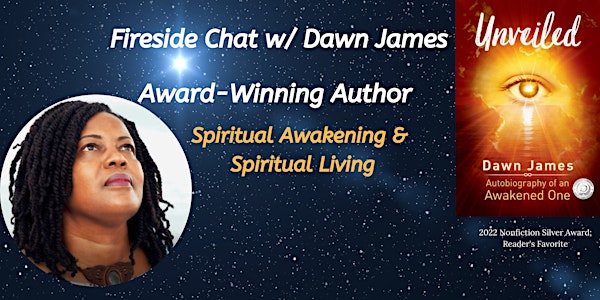 Fireside Chat w/ Dawn James - Spiritual Awakening & Spiritual Living
Join author and spiritual mentor Dawn James for a closer look at spiritual awakenings
About this event
Dawn will share and explain
key signs of a spiritual awakening
the aftermath of an awakening
tips on how to integrate your spiritual and physical self.
Q & A to follow
The information shared is based on her personal journey. In 2003, Dawn experienced 24 profound spiritual events including full Kundalini awakening and Samadhi.
From Spiritual Crisis to Courage to Co-Creator
Dawn is an award-winning author for her afterlife story Unveiled: Autobiography of an Awakened One (2022 Silver Award nonfiction/spirituality; Reader's Favorite)
Spiritual concepts explained in Unveiled: Autobiography of an Awakened One include
• Kundalini awakening
• Merkabah
• Spiritual awakening
• Astral travel
• Harmonic Concordance
• Psychic abilities and clair senses
• Breatharianism
• Attunements
• Angelic realm
• Unity consciousness (Samadhi)
• The power of prayers
• Activating the chakras
• Spiritual evolution
• Visioning
• How to raise your personal frequency
• Soul mates
• Past lives
• Soul retrieval
• Guardian angels
• How to develop your intuition
About Speaker Dawn James
Dawn James is a Spiritual Mentor, Conscious Living Teacher, and founder of Publish and Promote. Since 2010, she has dedicated her soul's mission to opening hearts and creating a positive mindset so they can live harmoniously. She is passionate about uplifting others with messages of love, inspiration, and self-empowerment
Dawn knows first-hand the transformational journey it takes to awaken, raise your frequency, and live an empowered life after having a spiritual awakening in 2003. Dawn is also an international speaker and published author of several books on conscious living.