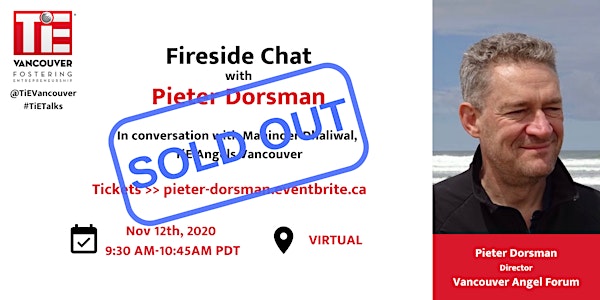 Fireside Chat with Pieter Dorsman
Join us for a conversation with Pieter Dorsman, Director, Vancouver Angel Forum
About this event
TiE Vancouver is thrilled to host Pieter Dorsman, Director, Vancouver Angel Forum, in conversation with Maninder Dhaliwal, chair TiE Angels Vancouver!
Pieter will be speaking about startups and fundraising. During Q&A, the audience will have an opportunity to ask questions of the speaker.
Fireside Chat 9:30am - 10:15am
Q&A 10:15am - 10:45am
Speaker Bio
Pieter Dorsman, is the director and CFO at E-Fund, a Vancouver-based seed stage investment fund. He also serves as the director of Vancouver's Angel Forum.
He conducts regular workshops on term sheets, valuation etc. on behalf of Canada's National Angel Capital Organization (NACO). He also co-created NACO's common document project, setting a national standard for common, preferred, convertible and SAFE term sheets.
Prior to relocating to Vancouver, Pieter held a number of senior positions in the project and corporate finance divisions of UBS in Hong Kong where he was responsible for financial advisory, arranging and restructuring mandates in Asia. Prior to joining UBS, he worked for Barclays Bank in Hong Kong and London.
Pieter holds a Master's degree in Economic and Social History from the Erasmus Universiteit in The Netherlands where he also studied law..
About TiE Vancouver
TiE-Vancouver is a not-for-profit B.C. organization with a mission to foster and support entrepreneurship. We are the BC chapter of TiE (The Indus Entrepreneurs) - founded in Silicon Valley in 1992 by successful entrepreneurs and professionals with roots in the Indus region. TiE is spread over 72 chapters in 17 countries with over 20,000 Members and 3,000 plus Charter Members - entrepreneurs, VCs, Private Equity, Angels, and service providers. TiE holds regular networking and educational events throughout the year - most of which are open to public.
This event is part of the TiE Talks series - an initiative of TiE Angels Vancouver where we host active investors and entrepreneurs who've recently raised, to de-mystify startup financing and capital raising.
Join us by becoming a member.