Sales Have Ended
Registrations are closed
Dear Parents, Welcome to the First Communion Ceremony - 2020 at Saint Charbel Parish, Ottawa. CONFESSION All First Communion children must make their First Confession before their First Communion. Father, mother and siblings are recommended to go to confession although not mandatory. Parents must reserve online and book an appointment for confession the week of July 27th, 2020, for assistance and urgent matter only please call the Church's Office at (613)749-9494. Confession will be by appointment only on: - Tuesday August 4th, 2020 - Wednesday August 5th, 2020 MASK and SOCIAL DISTANCING MANDATORY You must be maintaining Social Distancing and wearing MASK AT ALL TIMES. First Communion kids can take their masks off for the photos only. We wish you a blessed First Communion Ceremony and please stay safe. God bless you all. SAINT CHARBEL PARISH, OTTAWA
Sales Have Ended
Registrations are closed
Dear Parents, Welcome to the First Communion Ceremony - 2020 at Saint Charbel Parish, Ottawa. CONFESSION All First Communion children must make their First Confession before their First Communion. Father, mother and siblings are recommended to go to confession although not mandatory. Parents must reserve online and book an appointment for confession the week of July 27th, 2020, for assistance and urgent matter only please call the Church's Office at (613)749-9494. Confession will be by appointment only on: - Tuesday August 4th, 2020 - Wednesday August 5th, 2020 MASK and SOCIAL DISTANCING MANDATORY You must be maintaining Social Distancing and wearing MASK AT ALL TIMES. First Communion kids can take their masks off for the photos only. We wish you a blessed First Communion Ceremony and please stay safe. God bless you all. SAINT CHARBEL PARISH, OTTAWA
First Communion Ceremony at Saint Charbel Parish, Ottawa - 2020
About this Event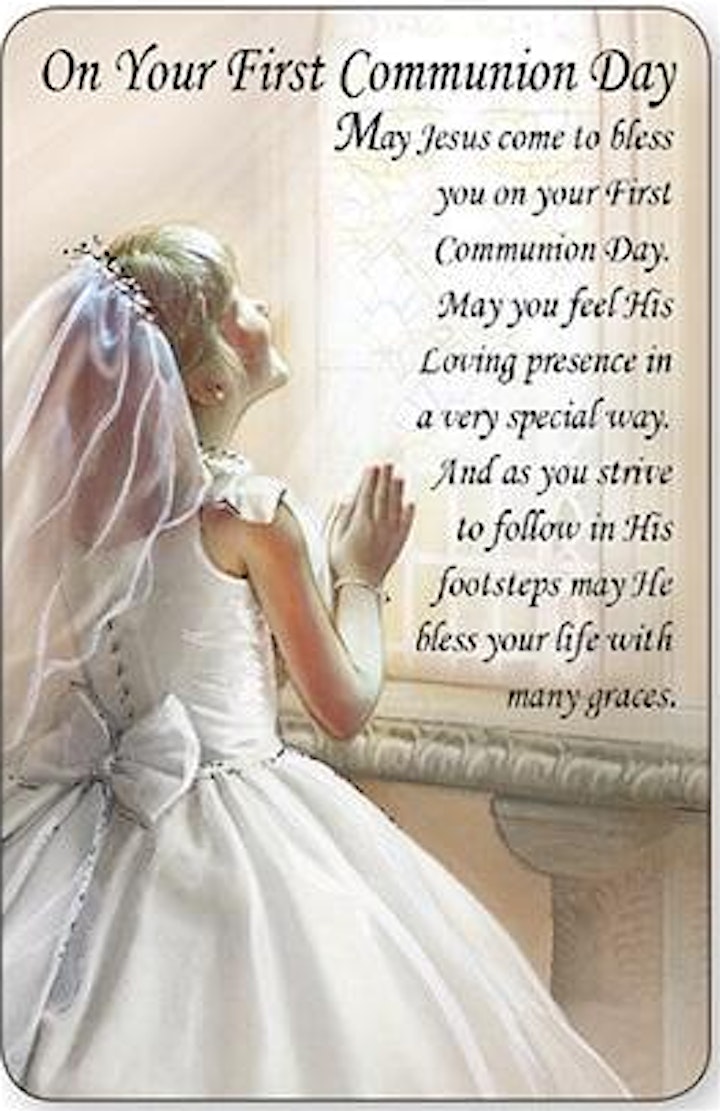 Dear Parents,
On behalf of Saint Charbel Parish, Ottawa, we welcome you and your family to Saint Charbel Parish, Ottawa, First Communion Ceremony - 2020.
PLEASE NOTE THE FOLLOWING:
Due to the provincial restriction on the number of people allowed in an indoor space, in line with the province of Ontario Health regulations. we will hold three (3) ceremonies with ONLY have 14 spots in each ceremony, which allows ONLY a maximum of seven (7) attendees per family including the First Communion child.
There will be 3 ceremonies
Saturday August 8th at 11:00 am
Saturday August 8th at 5 pm
Sunday August 9th at 5 pm
REGISTRATION
Parents can register to the ceremony of their choosing. Registration will be on a first-come, first-served basis. Reminder that there is a limit of 14 kids in each ceremony.
CONFESSION
All First Communion children must make their First Confession before their First Communion. Father, mother and siblings are recommended to go to confession although not mandatory.
Parents must reserve online and book an appointment for confession the week of July 27th, 2020, for assistance and urgent matter only please call the Church's Office at (613)749-9494.
Confession will be by appointment only on:
Tuesday August 4th
Wednesday August 5th
DRESS
Parents can pick up the First Communion robes when they come in for Confession. The robes are not mandatory, the alternative would be white clothing.
PHOTO
There will be a photographer for all the ceremonies. The photographer will come an hour earlier to take individual photos of the children.
MASK and SOCIAL DISTANCING MANDATORY
You must be maintaining Social Distancing and wearing MASK AT ALL TIMES. First Communion kids can take their masks off for the photos only.
We wish you a blessed First Communion Ceremony and please stay safe.
God bless you all.
SAINT CHARBEL PARISH, OTTAWA