The beauty of the holiday season will be illuminated by the candlelit paths of First Light "Unplugged" at Sainte-Marie among the Hurons.
About this Event
What Guests Need to Know
• Tickets will be available online through Eventbrite only.
• Timed ticketing is implemented to ensure groups are spaced out and to maintain a safe maximum capacity.
• Upon arrival, guests should have tickets ready prior to reaching the admission gate to ensure smooth entry.
• Online ticket sales are only for admission to the following scheduled evenings: Friday, November 20; Saturday, November 21; Friday, November 27; and Saturday, November 28.
• Face covering or masks are mandatory for staff and guests.
• All guests must follow physical distancing rules as mandated by the Ontario Government and staff will monitor and remind guests as necessary.
• Signage onsite will communicate best practices and protocols, so guests understand expected health and safety requirements.
• Programming has been modified to provide a touchless experience as much as possible. Where this is unavoidable, hand washing, or sanitizing stations are available.
• Enhanced cleaning and disinfection practices are in place throughout the site.
• Guests will be required to self-assess their health and should not visit Sainte-Marie if there is a possibility that they may have contracted or have come into close contact with Covid-19.
First Light returns for it's 21st year with an "Unplugged" experience. Candlelit pathways will guide you through the historic site, including through our highlighted historic buildings, dressed up for the holiday season. Experience the beauty of the season wrapped in history, with take home crafts, treats in the cookhouse and 12 local vendors located in our Brebeuf Event Centre, showcasing a variety of products for sale. Advanced ticket purchase is mandatory for this event, please visit hhp.on.ca for full details.
Important to note: Admission to First Light is through pre-purchased online tickets. Please ensure that you have booked tickets for all members of your party, including any children 12 and under through Eventbrite. Admission to the Holiday Vendor Market is separate from the First Light event and is free admission.
Don't forget to bring your food donation to the Salvation Army Food Drive. First Light appreciates your generosity each year, enabling our event to be one of the largest Food donation contributors each year.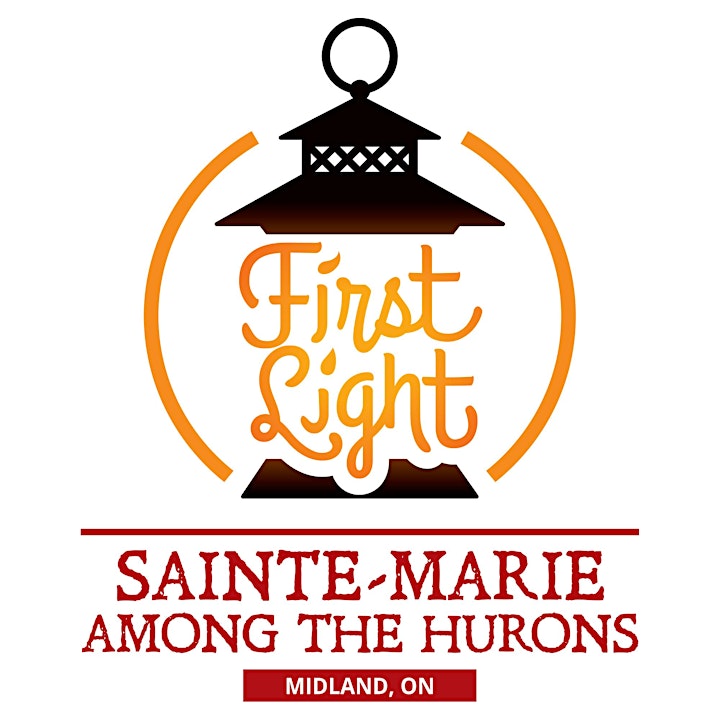 Please note! Tickets are sold in 30-minute time slots (i.e. 5:00pm to 5:30pm). Your time slot is your admission window. Please arrive at admissions within your time slot. The time slots are in place to help reduce crowds and lines at check in. Tickets are ONLY available online and will not be sold on site. Please ensure that you have booked tickets for all members of your party, including any children 12 and under. This is a new process to keep everyone safely and physically distanced. Please note that face coverings are mandatory while visiting the historic attraction.