Description
The cost of managing disruption can be high.
For many corporations, innovation isn't an idea problem, it's a recognition problem. Accelerating collisions in our technology ecosystem is key to kickstarting new growth and efficiency in existing business operations.
The RIC Centre, in partnership with the City of Brampton and GEOTAB, has put together a must attend event for all corporate innovators who want to defend strong footholds and stay on the edge of new technologies.
You'll get a first look at our top clients participating in cyber, digital integration processes, internet of things, robotics, VR/AR and other adoptive technologies that Canadian manufacturers can leverage to maintain operational competitiveness.
This session will connect entrepreneurs, corporations, and public sector for an interactive roundtable to break down barriers between innovators and corporations looking to adopt technology.
Corporations have the chance to participate in a capstone initiative centered around an advanced manufacturing management problem identified in the session.
---
Our Moderator, Colin Dhillon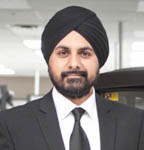 Colin Singh Dhillon is the Chief Technical Officer at Canada's Automotive Parts Manufacturer's Association and a Thought leader. He is leading connected and autonomous vehicle technology projects and providing support to both the Canadian automotive industry and multiple levels of Government, on matters of vehicles, industry and infrastructure of the future initiatives.
---
Agenda
2:00pm Welcome City of Brampton
2:10pm -- 2:20 Colin Dhillon Introductory Remarks & presentation, highlighting industry trends and manufacturing 5.0 with a focus on data analytics related to the manufacturing process; cyber on the shop floor / supply chain

2:20pm – 2:30 Michael Pirruccio, Production Manager at Geotab
2:30pm - 3:30 Discussion moderated by Colin including the following panelists
AJ Khan

, Cloud GRC
Michael Pirruccio, Geotab
Michelle Chretien, Centre for Advanced Manufacturing and Design Technologies at Sheridan College
3:30pm - 4:00 Concluding remarks
4:00pm – 5:00 Q & A and Networking
---
Sponsored by: