First Time Home Buyer, 2018 : North Vancouver with Author and Realtor, Gera...
Description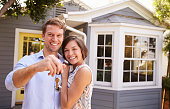 Are you planning to buy your first home? move up or down buyer? investor? There is a lot to understand about market shifts, forecasts and changes, new mortgage rules, choosing a qualified professional for you, and more! Our team of experts have been providing free home buying seminars for the past 17 years and we are passionate about helping first time home buyers.
Buying a home is probably one of the largest investments you will ever make, financially and even maybe emotionally. Whether you are a veteran or novice, buying a home can be worrisome and intimidating. Understanding the buying process can give you the confidence you need to make the right decisions. We will provide you with resources, tips, worksheets & handouts to get you started with your goal.
Each expert will present a 20 minute slideshow followed by a 10 minute Q & A. Refreshments provided.