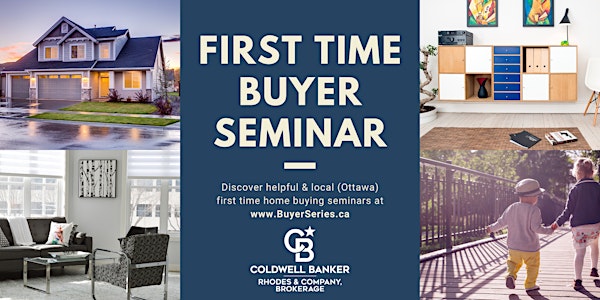 First-time home buyer seminar (Nov 30)
This event will discuss the overall home buying process, how to finance & get a mortgage. We will also discuss common mistakes to avoid.
When and where
Location
Logan Katz LLP 105-6 Gurdwara Road Ottawa, ON K2E 8A3 Canada
About this event
This event is now SOLD OUT, however our next event is on January 25th. You can register here: https://www.eventbrite.ca/e/first-time-home-buyer-seminar-jan-25-tickets-473387864847
At this first time Home Buyer Seminar, two Realtors, a Mortgage Broker and Accountant will discuss:
The overall purchase process: typical paperwork, conditions & costs. 
Acceptable income levels and other financing requirements.
Common mistakes to avoid.
How you can save for your down-payment & improve your credit score.
Funding your purchase using RRSPs.
How to get the process started.
The event is ideal for anyone who is looking to learn more about the buying process (for the first time). Even if you are a few months/years out from starting your home search. In addition, we also welcome attendees who already own but want to know more. We aim to educate and bring to your attention some common pitfalls to avoid.
What you can expect: The event will be comprised of short presentations by Real Estate Brokers (Ayn MacDonald and Jamie Katz Coldwell Banker Rhodes & Company), Mortgage Professional (Rebecca Nickerson The Mortgage Advisors) and Accountant from Logan Katz LLP. Following the presentations, we will answer any questions you might have.
Please REGISTER here on Eventbrite.
In-person tickets are VERY limited *due to seating capacity* so if you are no longer able to attend (or become ill), we ask that you cancel your ticket, or let us know in advance so we can offer it to someone on the waitlist.
Can't make it ? Check out other events at www.BuyerSeries.ca