Take an hour to learn how to buy the space of your dreams from the experts.
About this event
Does making your first home purchase make you want to throw up a little? Join us for our ZOOMinar lunch and learn!
At this 1-hour ZOOMinar Workshop, you'll learn:
The 5 number biggest mistakes first-time home buyers make and how to avoid them
Ways to save money over the life of your mortgage that the banks won't share
The differences in owning a house vs. a condo
What builders don't tell you that you need to know before you purchase a pre-construction condo in Toronto
Discover the hidden costs of buying your first property
The tax credits available to first time home buyers
25 things you need to know as a first-time home buyer in Toronto
Break through your fears of what it takes to become a home-owner
Attend this information session at NO-COST and NO-OBLIGATION and arm yourself with the information that you need to know to make the most important purchase in your life.
Join the ranks of home-ownership in 2022. This is YOUR decade!
Contact
davelle@morrisonsellsrealestate.com
Cost
Free or voluntary donation to Second Harvest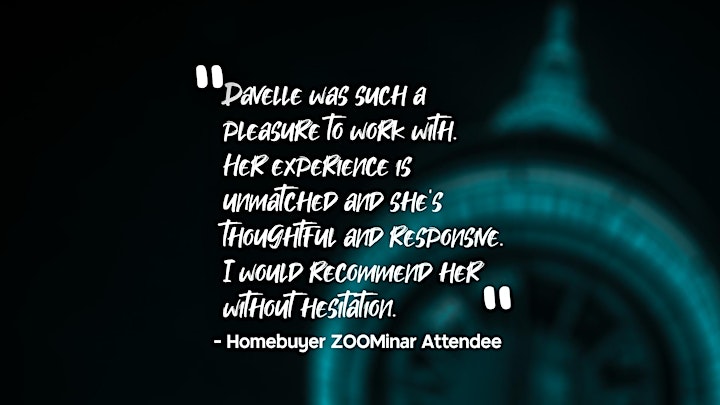 About your host Davelle Morrison
Davelle works for Bosley Real Estate Ltd., Brokerage and is ranked in the top 5% agents in her brokerage. She loves working with first-time home buyers to make sure they get all the facts they need to make the right decision. She has been a real estate investor for more than 15 years and has been selling real estate for more than 10 years.
Davelle is regularly interviewed in the Globe & Mail, BNN Bloomberg, CTV News Channel & many other publications. Ms. Morrison has co-authored the best-selling book titled, Success Today with Best-Selling author and speaker, Brian Tracy. Davelle has been on air on the DIY Network & HGTV as the real estate agent on Holmes And Holmes. Ms. Morrison is an active real estate investor owning multiple properties.
Guest Speakers
Dimitri Kanavas
Real Estate Lawyer, Kanavas Professional Law Corporation
Dimitri Kanavas is the principal lawyer of Kanavas Law Professional Corporation. Since completing his law degree over ten years ago, Dimitri has expanded his efforts to various types of clients and legal practice areas working in both the US and Canada. Dimitri completed a Masters of Law in the United States and spent some time working with a securities firm in the US before returning back home to Toronto and eventually starting his own practice. Dimitri currently practices in real estate law, business law, litigation and wills and estates. Dimitri knows first hand the importance of being well informed as a new home buyer and the challenges new home owners face in today's market. He enjoys working with and assisting first time homebuyers in advising them of their legal rights and what to look out for when buying a new home. In 2020, he was voted the Toronto Star Gold Winner for best Real Estate Lawyer in Toronto.
Reenie Banks
Sales Representative, Bosley Real Estate Ltd., Brokerage
For 17 years, I have been devoted to serving the real estate needs of my buyers and sellers throughout Toronto. I come from a large family of Realtors and Brokers, that starting from an early age helped me develop a love, passion and great understanding of the business. My education in Communication Studies from Wilfrid Laurier University has benefited me greatly throughout my real estate career in sharpening my listening, marketing, negotiation and everyday communication skills as well as understanding the needs of my clients.
The purchase of a home, for most, is the biggest investment they will ever make. It is important to have a Realtor you trust to guide you every step of the way. This is why I believe in an honest and straightforward approach with all of my clients. Wherever our search takes us, you can be assured that my knowledge and insight will bring unparalleled results. My goal is to provide you with exceptional service that goes well beyond what most would expect. I will work diligently so that together we can find you your perfect home or investment property.
James Dill
Mortgage Agent, The Mortgage Coach
James grew up surrounded by a combination of real estate professionals, investors and teachers. Naturally he has taken that background and has used it to help people reach their real estate and financial goals. James loves working with first time home buyers, walking them through the borrowing process so they understand it beginning to end.
Part of one of the top mortgage brokerages in the country with over 100 years of combined experience, James and his team have access to a wide variety of lenders from big banks to specialty products ensuring tailored solutions and the lowest cost of borrowing for his clients. If there is a way to get a deal funded, James and his team can make it happen.
About Second Harvest
Second Harvest is Canada's largest food rescue charity with a dual mission of environmental protection and hunger relief.
They redistribute nutritious, unsold food from across Canada to charities, non-profits and Indigenous communities in every province and territory. Their free, essential service helps nourish people through school programs, seniors' centres, shelters, food banks, and regional food hubs.
In 35 years, Second Harvest has rescued over 155 million pounds of healthy food, keeping it out of landfills and preventing 192 million pounds of greenhouse gases from entering the atmosphere.
Clip From Our Recent ZOOMinar