Description
Join Arts Habitat for an electric event exploring the real and the virtual and everything in between!
First Wednesday
The 1912 McLuhan House is open to drop in.
Please RSVP. Free admission. Donations accepted. Light refreshments provided.
At 5 p.m, McLuhan Literati and creator of the TV Wall installation Dr. Marco Adria and Stuart MacKay will lead a talk entitled, "Traces of the present and the past in mixed reality." Mixed reality combines virtual and concrete worlds to create new social environments. It can point to a new age of consumption, as the Palais de L'electricité did in Paris, 1900. Or it can offer the "luminous experience" of Moment Factory's Aura at Notre-Dame Basilica (above, Montreal 2017). Attend this session to create your own insight into the future of mixed reality.
Photo: Moment Factory
Stick around for a chat with McLuhan genealogist, historian and Marshall's cousin-once-removed, Stuart McKay. Hear him giving a history talk about the family residence, McLuhan's life, and his ancestry featuring a tour of the McLuhan Family Portrait Gallery and McLuhan House Library.
At 7 pm, join us in the salon with a special guest, Jessie Beier for New Media Seminar No. 9, Science Fictioning a Reality-Without-Us. Jessie is a teacher, artist, and PhD student at the University of Alberta. Beier's interests in visual and sonic ecologies have led to a research-creation practice that works to think pedagogy, in its many forms, as a power for overturning cliché and dismantling common-sense habits of interpretation and understanding. Beier's current research investigates how education systems produce resources for thinking the future in light of what has been termed the 'Anthropocene', with the aim of fabulating alternative speculations on how pedagogical life might be thought otherwise.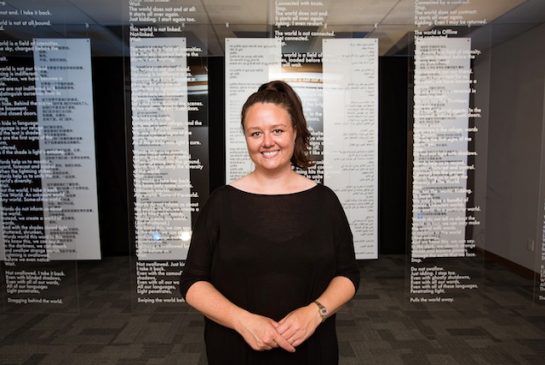 Photo: Kevin Tuong/Metro News
Read more about her project as artist-in-residence for ASSIST immigrant community services at this link!
About the Program
Build community and make new friends! Meet artists, researchers, and community members who are continuing McLuhan's legacy of probing the theory and application of media in the global village! First Wednesday offers opportunities to engage in dialogue on different topics of importance to our future at the intersection of history, art, communications, and technology. Building on the legacy of McLuhan's indomitable curiosity about media, the McLuhan link is celebrated through a partnership with U of A.
Dr. Marco Adria is a Professor Emeritus from the Masters of Arts in Communications and Technology program at University of Alberta, advisor at the Centre for Public Involvement, and author of numerous books including Technology and Nationalism (2009), The lighted marketplace (2014) and Handbook of Research: Citizen Engagement and Public Participation in the Era of New Media (2017).
———————————————————————
PARTICIPANT INFO
Please R.S.V.P to let us know if you can attend so we may anticipate how many people are coming.

Parking is available at the back for people with limited mobility. Nearest Bus Routes are 2, 8, 141, 142. Note: We are sorry the historic house is unfortunately not wheelchair accessible.

Seminar discussions are recorded for archival purposes. You may also find us on Periscope by visiting @madria40. Attendees and guardians of participants under 18 will be requested to sign an image and audio release form.

We honour everyone's right to actively participate in the discussion and endeavour to create space for wide representation across discipline, class, gender, race, sexual orientation, age and ability. Oppressive language or behaviour will not be tolerated. We ask everyone who attends to contribute to a safer space.
• Show care for themselves and the place
• Support each individual present
• Keep an open mind to others and their perspectives
• Listen well and do not interrupt
• Validate one another's feelings and experiences
• Encourage empathy and consideration
• Refrain from judgement
• Respect each other's pronouns and identities
• Be accountable for your words and actions.

Thank you for helping make McLuhan House an inclusive environment for all!
Seminars work the best when everyone is able to:
• Play, Doodle, Draw, Have Fun!
• Speak with their mind and heart
• Facilitate their self and others
• Link and connect ideas
• Contribute their thinking, and
• Listen together for patterns, insights, and deeper connections.
+ + + + + + + + + + + + + + + + + + + + + + + + + +
Arts Habitat acknowledges that McLuhan House is situated on Treaty 6 territory and pehonan (meeting place) for many Indigenous peoples. We are thankful and respectful of the Aboriginal histories, languages, and cultures of the many Cree, Nakota Sioux, Dene, Anishinaabe, Blackfoot, Inuit, Métis and more First Nations, whose presence continues to enrich our community known in the Cree language as amiskwaciwâskahikan (Beaver Hills House).
~ ~ ~ ~ ~ ~ ~ ~ ~ ~ ~ ~ ~ ~ ~ ~ ~ ~ ~ ~ ~ ~ ~ ~ ~ ~ ~
Space is limited. Please reserve your seat now!
Questions? Please contact Chelsea Boos, Community Programmer for Arts Habitat.
780.474.0907 | cboos@artshab.com