Fitted Capital Tour

Sunday, 4 August 2013 from 11:00 AM to 4:00 PM (EDT)
Event Details
Introducing the 2013 Fitted Capital Tour!
A special event held in honour for our east-coast friends and fans! We're returning the support with an event held in Canada's own capital - Ottawa. We will be awarding three special edition trophies for BEST AIR, BEST STATIC, and the BEST OF SHOW. Limited competitor space will be available for $15/car. Spectators are free! 
Competitors, please register online at http://fittedcaptitaltour.eventbrite.ca
For further information, please visit http://www.fittedlifestyle.com or contact TrackWerks (613) 421-1753 x501.
Event: 2013 Fitted Capital Tour
Event Date: August 4, 2013
Event Time: 11:00am - 4:00pm
Competitor Roll-In: 8:30am-10:30am
If you are a Vendor and would like to set up a booth. Pleas email josh@trackwerks.com for more information.
*Please read the FAQ's below for answers to the most common questions*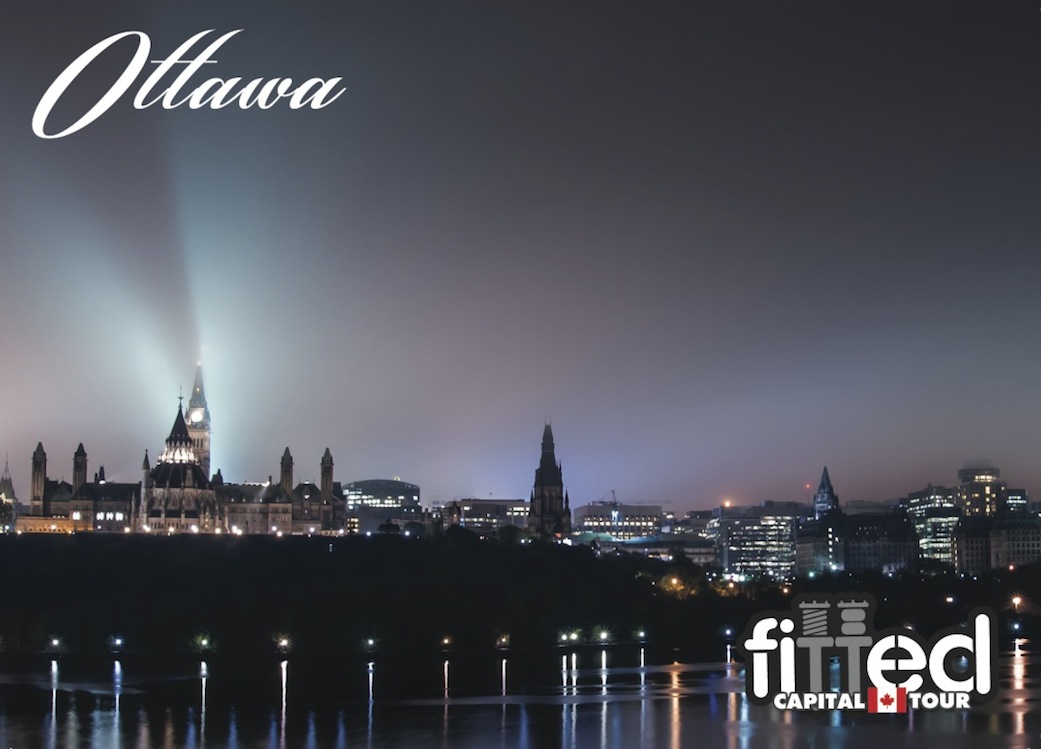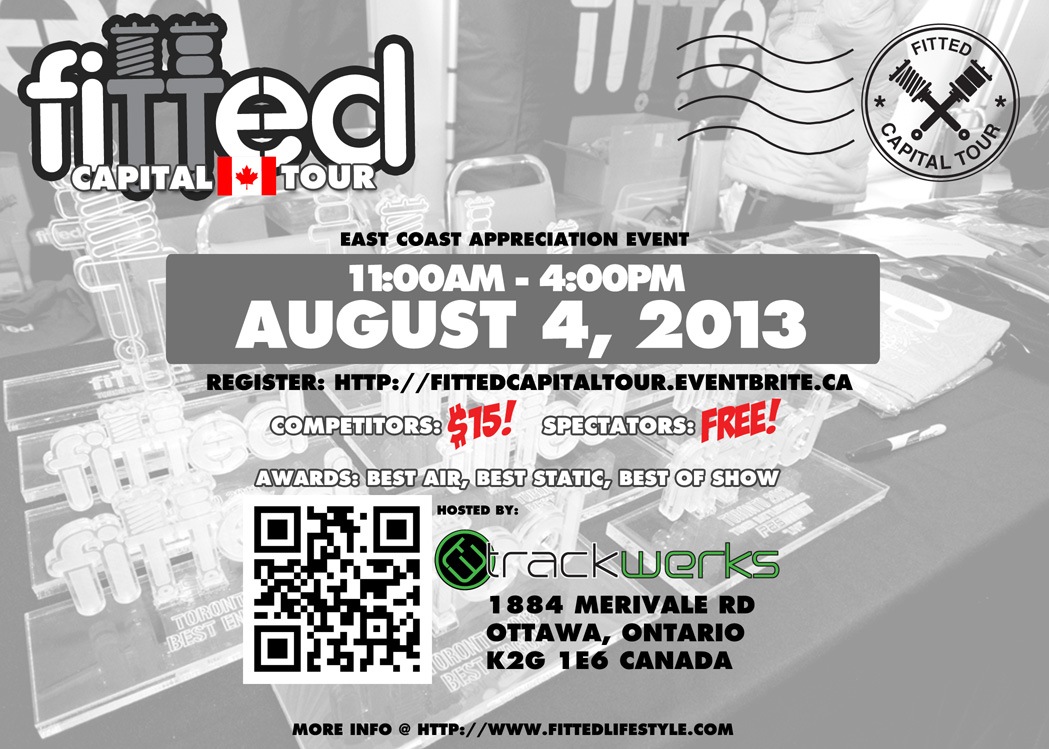 FAQs
Q: Is registration required?
Yes, registration is required if you intend on competing for the 3 special edition trophies awarded at the Fitted Capital Tour. The cost is $15/car and must be completed online at http://fittedcapitaltour.eventbrite.ca
Q: What is the admission cost for spectators?
Absolutely nothing! This is a special appreciation event and we are happy to provide this event free of charge. Simply arrive at 11:00AM and enjoy the event!
Q: How do I win a trophy?
Judges will judge the entire event between 1:00-3:00pm. The only way to identify your car is by placing your registration slip on your dashboard. This slip will be provided to you upon competitor roll-in after you have provided your event registration ticket. Winners will be announced at the Fitted booth @ 3:30pm.
Q: I want to park with all my friends or car club. Can you reserve spots?
No, unfortunately we do not reserve spots. If you would like to park together, we highly suggest you plan your crew or car club's roll-in TOGETHER. The doors open sharply for competitors at 8:30am so we suggest you arrive as early as possible to avoid disappointment. Space is extremely limited and we cannot make changes for vehicles that arrive late so please arrive together!
Q: Is alcohol allowed at Fitted.
No, alcohol is NOT permitted at the event.  If alcohol is found on your person, you will be removed from the event without refund.
Q: Are dogs permitted at Fitted?
Yes, but please ensure you clean up after them. Dogs must be leashed at all times. Please act responsibly as a pet owner.
Q: What time does competition judging start and end?
Judging commences for all vehicles at 1:00pm and ends at 3:00pm. For a full schedule of events click here.
Q: Which entrance do I enter?
There is only ONE main entrance into the event off of Merivale Rd.
Q: Are there in/out privileges?
As a competitor, your vehicle may not leave the event. Roll-out will begin immediately after 4:00pm.
Q: I have more questions. Who do I contact?
Trackwerks is the official host for the Fitted Capital Tour. Please contact Josh at 613-421-1753 x501. You may also email info@trackwerks.com
When & Where

Trackwerks
1884 Merivale Rd
Ottawa, ON K2G
Canada

Sunday, 4 August 2013 from 11:00 AM to 4:00 PM (EDT)
Add to my calendar