FIVARS 2017 - Festival of Intl Virtual Reality & Augmented Reality Stories
Description

Canada's original critically-acclaimed International Festival of Virtual Reality & Augmented Reality Stories returns for its third year, bigger and better than ever.
Find out why Huffington Post called FIVARS "The Most Cutting-Edge Storytelling Festival in the World."
From the producers of VRTO - Canada's largest VR Conference & Expo, FIVARS showcases the gold standard in immersive stories that represent the spectrum from around the world, carefully selected from hundreds of entries to showcase the possibilities, approaches and innovations of this emergent entertainment, information and engagement medium.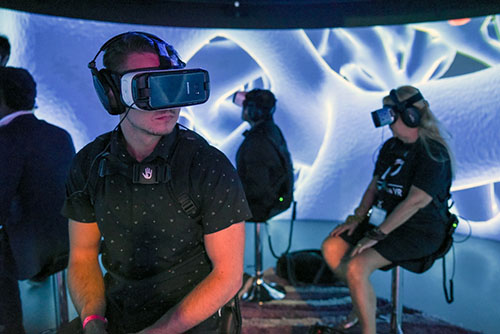 The 2017 Catalog features 35 carefully curated selections from over 14 countries, including many exclusives and world premieres from Argentina, Brazil, Canada, China, France, Germany, India, Ireland, Japan, Mexico, Netherlands, Peru, South Korea, United Kingdom, USA exhibited on Gear VR, HTC Vive and Oculus Rift.
Film enthusiasts, families, travelers, adventurers, philosophers, activists, and technologists will all find something to inspire, motivate and experience.
~~~~
This year, FIVARS will land at Toronto's finest VR venue - House of VR at Queen and Bathurst to bring you the absolute pinnacle experience in VR showcases.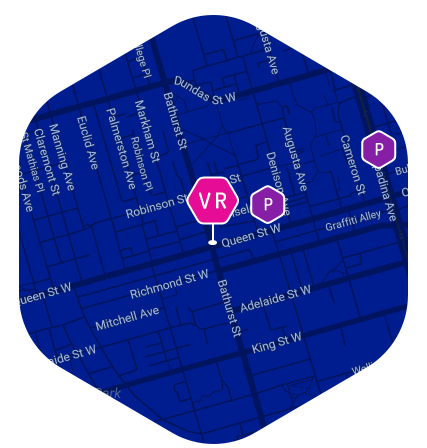 Located in the heart of downtown Toronto's art disctrict, during the week of TIFF - the world's largest film festival - you will have an opportunity to be in the very center of the front line in entertainment.
Tickets are sold in 2 hour blocks for individual days and grant the purchasors a wristband that can be used for access to all the talks (1 hour special presentation daily) with producers, directors, distributors and special guests, and a paper ticket with 40 minutes of viewing time that can be applied to the catalog of choices.
FIVARS puts a special focus on eliminating lineups, and creating the most personable experience in the world.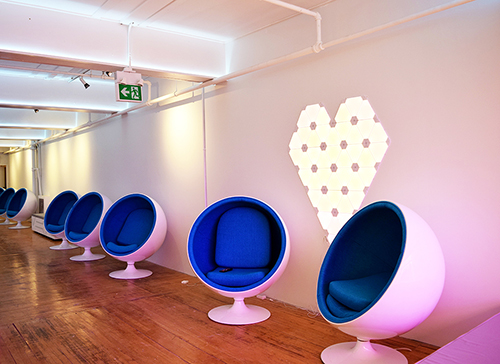 There is no other festival quite like FIVARS, with an exclusive focus on discovering and showcasing unique new approaches to narrative.
DAILY TALKS Included with Wristband (or access to talks may be purchased separately)
Friday, September 15th - 2-3pm House of VR
The Directors
Join innovative directors Michaella Vu (Meta-Dimensional), Shivani Mulekar (Sanctuary) Alton Glass (A Little Love) and Stefan Grambart (Halcyon) for a discussion about process, challenges, and epiphanies. A great diversity in approach, origin and output will result in a fascinating conversation about working as an independent in this field
Saturday, September 16th - 2-3pm House of VR
International Markets
Joss Monzon, Gabriel Giandinoto (Trends Festival) and J Lee Williams (Occupied VR) will discuss the current...trends, industries and timbres in China, Mexico, South America, Canada and the USA. As moderator, I will also chime in with my observations about ethnographic patterns and disparities in content we have received from around the globe over the past year.
Sunday, September 17th - 2-3pm House of VR
Designing Narrative with Emerging Technologies
This special panel features Montreal director Olivier Asselin (City of Ghosts), Los Angeles producer Philip Plough (IN HIS PRESENCE), Toronto director Chris Forde (The Golden Note) and Dr. Rorik Hendrikson PhD (Dr. Henrikson has been focusing on early stage planning and conceptualization for virtual reality narratives.) We will examine how technology drives narrative and narrative drives technology as we survey Augmented Reality theater, photogrammetic meditation, gaze-driven interactive 360 degree cinema, and storyboarding for this new immersive and interactive pan-dimensional medium.

Be ahead of the pack and reserve your ticket to the frontier now.
Official site, selections and listings at http://FIVARS.net
Download the FIVARS App for Android for listings and photos!
Follow FIVARS on Social Media at @FIVARStories
PLEASE PAY VERY CLOSE ATTENTION TO THE DAY & TIME BLOCK ON YOUR TICKET NAME BEFORE AND AFTER PURCHASING. TICKETS MAY APPEAR AS A THREE DAY EVENT BUT YOU WILL ONLY HAVE ACCESS TO YOUR 2 HOUR BLOCK PURCHASE AND THE DAILY MIDDAY TALKS. NO EXCEPTIONS.

YOU MAY PURCHASE TICKETS FOR ADDITIONAL 2 HOUR BLOCKS SEPARATELY IN ADVANCE OR AT THE DOOR (subject to availability).

This event is for ages 13+. Some experiences are 18+ or require the consent of a guardian.
ps. FIVARS is pronounced FIVE-are-sss
FAQs
Are there age requirements for the event?
13+ for event & all VR experiences (per Samsung's stipulation on their equipment). AR and non-VR experiences only, will be available to those under 13.

What are my transport/parking options getting to the event?
What is the refund policy?
No refunds. However tickets ARE transferrable.

Do I have to bring my printed ticket to the event?
No, save a tree if you can, however, we will need to see the ticket/proof of purchase on your digital device.
Is there student & educators pricing?
I have a promo/discount/coupon code, how do I apply?
Below the ticket types is text ("Enter promotional code") which brings up a box to enter a code, enter here & press "Apply" button. On the mobile site it is at the top, on the app & desktop site it is below



Organizer of FIVARS 2017 - Festival of Intl Virtual Reality & Augmented Reality Stories