Five Courageous Helpers: my family's precarious survival in Holland

Friday, 16 October 2015 from 12:00 PM to 1:00 PM (EDT)
Event Details
"I was born in the ghetto in Amsterdam at the beginning of 1943, just as the persecution of Jews in the Netherlands was reaching its most relentless and brutal stage. My parents and I were among the very few Jewish nuclear families to survive the war." - Jochebed Katan
About the Book: "You're not allowed to shoot me"
"From a privileged life in a middle-class Jewish family to the precarious life of fugitives dependent on the good will of a series of strangers, this book preserves and elaborates on Rie Katan's account of how she, her husband Elkan, and their baby daughter Jochebed were able to be one of the very few Dutch Jewish nuclear families of which every member survived the Holocaust. As well as transcribing and translating Rie's taped and handwritten memoirs, Jochebed has fleshed them out with background material on the Katan family and on wartime events mentioned by Rie, and she has added material drawn from her own family-related experiences and from recent discussions with the descendants of some of the people who were responsible for the family's survival.
Rie's reflections on the motivations and the character of the interveners offer trenchant insights into why apparently ordinary people would run the risk of defying a brutal and ruthless regime in order to help a few members of a religious group designated by that regime for persecution, deportation, and extermination.
Rie and Elkan went into hiding together, and the book recounts their moves from one courageous host family to another. Accordingly, they made the agonizing decision to turn their daughter Jochebed over to the Went family at the age of four months and the Wents raised her in a very loving way until the end of the war, along with their own six young boys.
Jochebed's epilogue on her family's life after the war highlights the lingering ill effects of the events recounted in Rie's memoirs. In this respect, the book reinforces the findings of earlier research on the post-war difficulties of Dutch families who had been persecuted during the Holocaust."
About the Author
Jochebed Katan is a child Holocaust survivor born in the ghetto in Amsterdam at the beginning of 1943, just as the persecution of Jews in the Netherlands was reaching its most relentless and brutal stage. She and her parents were among the very few Jewish Dutch nuclear families to survive the war. She was a Montessori elementary school teacher in Holland for many years before moving to Canada. Jochebed has been giving talks to students in the Kingston area about the Holocaust for 10 years. In June 2015 she was invited to teach and do book signing in the United States Holocaust Memorial Museum, in Washington DC.
She recently published her memoir, entitled "You're Not Allowed to Shoot Me!" 
Today Jochebed will be speaking about her family's Holocaust story and the Courageous Gentiles that helped them to survive.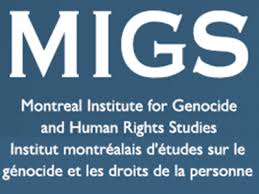 When & Where

Montreal Institute for Genocide and Human Rights Studies
1250 Guy Street
FB 804 (8th floor)
Montreal, Quebec H3H 2L3
Canada

Friday, 16 October 2015 from 12:00 PM to 1:00 PM (EDT)
Add to my calendar