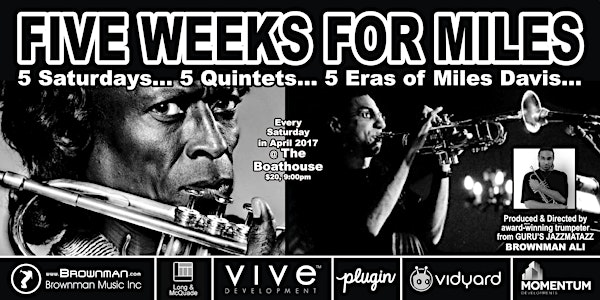 FIVE WEEKS FOR MILES
When and where
Location
The Boathouse 57 Jubilee Drive Kitchener, Ontario N2G 7T6 Canada
Refund Policy
Contact the organizer to request a refund.
Description
FIVE WEEKS FOR MILES |

5 Saturdays, 5 Quintets, 5 Eras of Miles
---
Every Saturday in April multi-award winning trumpet player BROWNMAN ALI -- heralded as "Canada's preeminent jazz trumpet player" by New York's Village Voice magazine -- will lead 5 different all-star ensembles through 5 historic eras of jazz which Miles Davis catalyzed & immortalized with his presence.
All proceeds go to support affordable/sustainable housing in Downtown Kitchener


Week 1: April 1, 2017 - "Young Miles" The Bird Years
A young Miles Davis began his career with Charlie "Bird" Parker & Dizzy Gillespie, obsessed with the creation of Bebop. This covers the 1940s on 52nd Street in New York City. His tenure as Bird's sideman would most exemplify this hard-swinging period of his life.
Week 2: April 8, 2017 - "Birth of the Cool and Kind of Blue" Post-Bop Miles
The 1950s and Miles's birthing of "cool" modal jazz. This show includes music from the bestselling jazz album of all time, "Kind of Blue", that was released in 1959, and will focus on Coltrane's affiliations with Miles during his time on the Prestige and Blue Note labels.
Week 3: April 15, 2017 - "Plugged Nickel" The Shorter Years
The teaming with Wayne Shorter in what would later be called "The Second Great Quintet" would leave the world breathless. This week explores that explosively creative quintet of Miles, Wayne, Herbie Hancock, Ron Carter & Tony Williams exemplified by the 1965 recording "Live At The Plugged Nickel".
Week 4: April 22, 2017 - "From Bitches Brew to Tutu" Electric Miles
During the ascendance of electric, psychedelic rock Davis' forays into what would later be called "jazz-rock fusion", would become legendary as a kind of line in the sand challenging jazz fans with it's ambient color exploration, part rock-inflected energy and vibe, and part outright maverick creativity.
Week 5: April 29, 2017 - "Doo-Bop" Had He Lived...

Towards the end of Miles' life he began an exploration of another sub-component of modern popular music - hip-hop. This final show will feature Brownman exploring where Miles was headed in his last years and what he might have been doing were he still alive today.