Location
Me to We Leadership Centre
727 Bethany Hills Road
Bethany, Ontario
Canada
Description
Luminous Ground is hosting internationally renowned meditation teachers Joel and Michelle Levey in Toronto for a five day meditation retreat.
"Meditation opens the mind to the greatest mystery that takes place daily and hourly. It widens the heart so that it may feel the eternity of time and infinity of space in every throb. It gives us a life within the world as if we were moving about in paradise; and all these spiritual deeds take place without any refuge into a doctrine, but by the simple and direct holding fast to the truth which dwells in our innermost being." - Suzuki Roshi


"The truly undisturbed mind is not a private experience; it is more 'public.' That clear mind is of a single nature, so it is really everyone's mind nature. . . The pure state of the unborn nature of primordial presence is the same for everyone."- Kilung Rinpoche


This Spring Retreat will introduce you to a variety of contemplative practices and principles for cultivating mindful clear presence and awakening to the five intuitive wisdoms. Slowing down to the speed of life, the natural rhythms of our days will offer a deeper quality of time for life-affirming, heart-opening, mind-expanding teachings, meditation, mindful movement, silence, and heartfelt sharing. This is a rare opportunity to develop deeper levels of insight inseparable from compassion. As your capacity to shed confusions and delusions grows, new possibilities for living in greater peace, harmony, balance, discernment, freedom, and creative compassion will emerge in the clear sky of your heart-mind.

Beginners as well as those well-seasoned in contemplative arts and sciences will find value in this inspiring retreat. Come prepared to savor the miracle of each embodied moment of mindful presence, to celebrate your place in the circle of life, and to awaken more deeply to your true nature and highest potentials.

Meals & Accomodations

Three meals a day are included, as well as accomodations in a room with a single bed. You can choose whether you would like to room with other people or not.
Tickets

Tickets costs are as follows:
Full 5 day retreat:
Earliest bird (on or before Feb 22): $599 ($200 deposit)

Early bird (Feb 23 - Mar 8): $699 ($200 deposit)

Late registration (Mar 9 - Mar 23): $799 ($200 deposit)
Weekend only (April 1-3):
Earliest bird (on or before Feb 2): $275 ($100 deposit)

Early bird (Feb 23 - Mar 8): $330 ($100 deposit)

Late registration (Mar 9 - Mar 23): $400 ($100 deposit)
About Joel & Michelle:
Joel & Michelle are internationally known authors and teachers of both ancient and modern techniques for achieving inner peace and living a balanced and harmonious life. They have devoted their lives to the study, practice, and teaching of the world's great wisdom traditions, and are well versed in the Eastern traditions of Buddhism and Hinduism, as well as the Western traditions of Sufism and Jewish mysticism. They are also experts in the modern scientific techniques for exploring the potential of the human mind, including neurofeedback, clinical biofeedback, cyberphysiology, and mindbody medicine.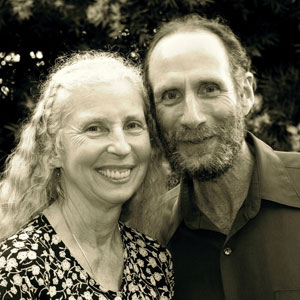 On their own journey of awakening Michelle & Joel have studied intensively with many of the most revered spiritual masters of our times. Their teachers include His Holiness the Dalai Lama, Krishnamurti, Thich Nhat Hanh, Ram Dass, Kalu Rinpoche, Karmapa, S.N. Goenka, Jack Kornfield, Dan Goleman, Larry Dossey, Jean Houston, and others. Joel and Michelle have also devoted a number of years of their lives to intensive silent contemplation, including a year-­long silent meditation retreat in the Tibetan Buddhist tradition.
In addition, the Leveys have applied their knowledge of how the mind works to the world of business in the areas of peak performance training and leadership development. They have worked with leaders and teams in over 200 leading organizations around the globe, including NASA, Intel, Hewlett Packard, Stanford Research Institute, Boeing, and MIT.
Joel and Michelle talk about how to select a meditation teacher in the Huffington Post article:
The Dos and Don'ts of Picking a Spiritual Master
You can find out more about Joel and Michelle here:
http://luminousground.ca/joel-and-michelle-levey/
Books
Mindfulness, Meditation, and Mind Fitness by Joel and Michelle Levey
The Spectrum of Ecstacy by Ngakpa Chogyam
Wake Up To Your Life by Ken Mcleod (chapter 5 and 6).
Spread the word!
If you would like to help spread the word, please share the event page on facebook and mark if you are going.
Also we have a retreat poster and a postcard to send in emails or print out and post in real life:
Click here to get the Postcard (PDF)
Click here to get the Poster (PDF)