Five Year Synthesis of Boreal Reclamation Research in the Peace Region
Five Year Synthesis of Boreal Reclamation Research in the Peace River Region: Key findings, best practices and future opportunities
About this event
Five Year Synthesis of Boreal Reclamation Research in the Peace River Region: Key findings, best practices and future opportunities
Over the last five years (2015-2020) and with support from Canadian Natural Resources Ltd., the NAIT Centre for Boreal Research has conducted several field and lab research trials aimed to reclaim upland and wetland ecosystems affected by in-situ oil sands activities. This seminar will be presented over two afternoon sessions and will provide a synthesis of the key findings and best practices gained from this research. An opportunity for discussion of the findings and future opportunities will be included at the end of each session.
This event is free to attend.
April 20th, 2021 - Session 1: 12:00pm – 5:00pm (6 presentations + Open discussion)
April 21st, 2021 - Session 2: 12:00pm – 5:00pm (5 presentations + Open discussion)
A virtual webinar link will be sent out to registered attendees. Attendees may join and leave the seminar at any time using the same link to select which presentations they would like to attend. The presentations will also be recorded and available for later viewing on the Centre for Boreal Research website.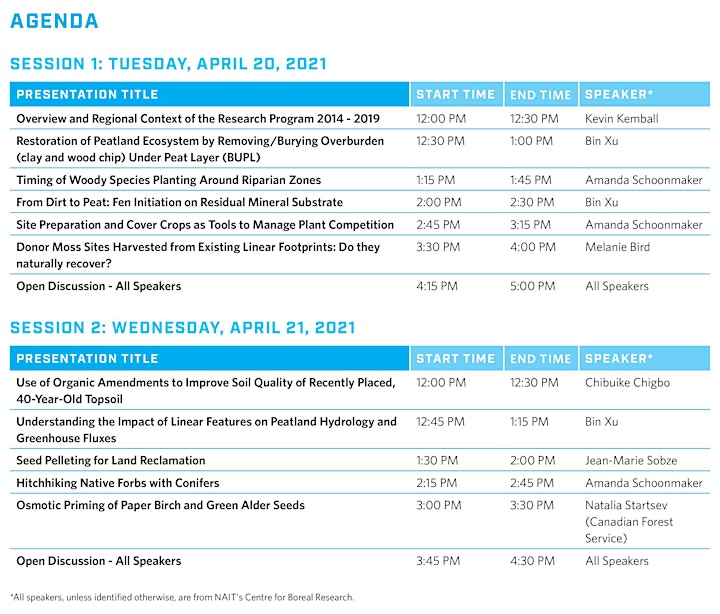 Studies involving wetland ecosystems had two main focus areas: 1) the development of reclamation methods for in situ well pads and linear features built in peatlands; 2) assessment and quantification of the impact of linear footprint on peatland functions.
Studies involving uplands (productive forest) were focused on evaluating tools including: the development of alternative nursery stock, cover cropping and seed enhancement treatments and practices such as planting timing, surface site preparation through mechanical means or use of amendments to enhance the development of forest species following completion of industrial activities.
In addition, a series of bench scale trials were initiated to further seed technology development in direct broadcasting of native plant seeds. These studies were located across a number of sites in the Peace River Oil Sands region and included former well pads, borrow pits, oil sands exploration sites, linear features and an airstrip.
Training of Highly Qualified Professionals and Communication of Learnings:
Finally, through these projects and collaborations, we have had opportunity to provide training to four research associates, three post-doctoral research fellow, eight research technicians, nine graduates students (five PhD and four MSc) and 35 student research assistants. We have hosted six peatland focused workshops and training schools, two field tours and three mixed-speaker seminars for professionals and reclamation specialists. Our free-access peatland bryophyte field guide has been widely adopted by field researchers across the country. Our research team has presented research findings at over 25 professional conferences and symposia. Over 10 peer-reviewed publications have been produced by the research team and our collaborators. Key learnings have been developed into technical notes and videos widely used by reclamation specialists across the province.
Thank you to Canadian Natural Resources Limited (CNRL), Natural Sciences and Engineering Research Council of Canada (NSERC) for their support and contributions to this research.
Organizer of Five Year Synthesis of Boreal Reclamation Research in the Peace Region
Our mission is to promote the informed use of boreal resources through applied science, education, and partnerships with industry, government agencies, practitioners and academics.
The Centre for Boreal Research (formerly Boreal Research Institute) is a leader in applied research relating to forest and peatland reclamation, and is an essential partner for applied science, innovation and enterprise development in Alberta's boreal forest region. With joint funding from the Natural Science and Engineering Research Council of Canada and industry partners, the Centre for Boreal Research has established two Industrial Research Chairs for Colleges to advance research in boreal reclamation, reforestation and peatland restoration. Housed in a 9,000-square-foot, state-of-the-art research facility located in Peace River, 500 kilometers northwest of Edmonton, it is staffed by a team of research scientists and technicians with professional designations in forestry, biology and agrology.