HUB is proud to announce our inaugural event, with a focus on transforming the education system to better serve Black Ontarians.
About this Event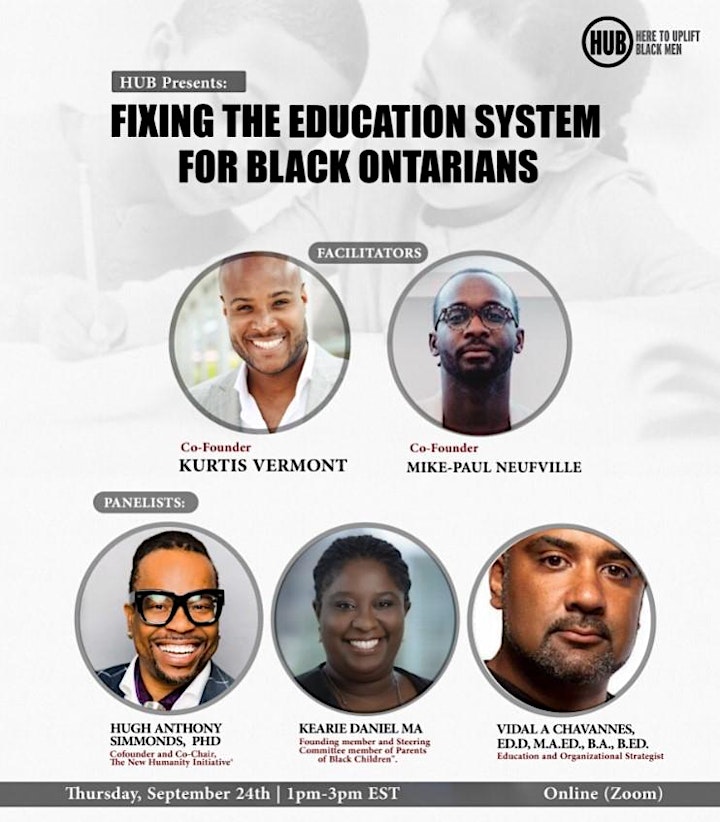 Part of HUB's mandate includes the creation of fresh content meant to uplift Black men, and the Black community more broadly. To that end, Here to Uplift Black Men is proud to announce our inaugural event, with a focus on transforming the education system to better serve Ontario's Black population.
The conversation will centre on four key themes:
•Increasing awareness on the provincial government's recent positive changes to the system, while highlighting why they aren't enough;
•Exploring solutions to enhance racial equity within education, led by experts from the Black community;
•Uplifting organizations seeking to advance equity, like The New Humanity Initiative, Parents of Black Children and Resolve; and
•Providing a forum for Black people to share their experiences.
This will be a virtual event held on Zoom to respect physical distancing guidelines. Register now to secure your spot. This is an event you won't want to miss!
On Thursday, September 24th, tap into your HUB.
More on our panelists:
Hugh Anthony Simmonds
Hugh Anthony, PhD is the Co-Founder and Co-Chair of The New Humanity Initiative, a national non-profit committed to promoting fundamental change that engenders equity, access and wellbeing for racialized communities in Canada.
Hugh Anthony is an adept strategist, storyteller, scholar and speaker who fosters service excellence to foreground and strengthen individuals and teams, through exceptional engagement and strategy development. He integrates an interdisciplinary approach to service excellence, augmented by multi-sector engagements at the conceptual, strategic and operational levels. His expertise fuels engagement that builds trust, inspires action and creates meaningful impact that enhances goal outcomes for organizations.
He holds a PhD in Recreation and Leisure Studies that centres his scholarship, teaching and research as a meaningful engagement for community, corporations and society within a lifestyle sphere that intersects experience, engagement and expertise. Hugh Anthony brings mastery as a public speaker and a compelling storyteller, utilizing performance in public speaking and captivating storytelling techniques, complemented by his award-winning presentation skills; to help executives and organizations amplify their customer experience engagement, strategic relationship building and create inclusive processes.
Kearie Daniel
Kearie Daniel, MA, is a Parent Advocate, Writer, Activist, Communicator and most importantly, a mom of two. Kearie is the author of the Woke Mommy Chatter Blog and Podcast, as well as founding steering committee member of Parents of Black Children, an advocacy group working for equity for Black students in Ontario's education system. Kearie also runs the equity centred communications agency Kama Communications. You can find Kearie at www.wokemommychatter.com on twitter and on Instagram.
Vidal Chavannes
Vidal A. Chavannes, Ed.D, M.A.Ed., B.A., B.Ed, is currently the Director of Strategy, Research & Organizational Performance with Durham Regional Police Service. In this regard, Dr. Chavannes charts the strategic direction of the organization and manages teams responsible for strategic planning, key performance indicator (KPI) development and tracking at the organizational and divisional levels, and all education and training for members, inclusive of the use of force and academic portfolios. Vidal has more than fifteen years of extensive experience in education and training in Canada, the United States and the United Kingdom, including secondary, post-secondary and technical and vocational education and training (TVET) teaching and program development, delivery, evaluation and review. He holds a Doctorate in Education from the University of Calgary, with a specialization in Higher Education Leadership. Dr. Chavannes has worked in a full-time and consulting capacity with a variety of public, private and non-profit organizations, all within the training and education ecosystem. Through these engagements, he has written curriculum, developed articulation agreements, managed faculty and staff and charted the strategic direction of a variety of organizations across North America and internationally.
In a consulting capacity, Dr. Chavannes has had the opportunity to assist non-profit and private institutions and organizations in preparing for Ministry accreditations across a variety of sectors; author white papers and other publications; provide keynote addresses and workshops; and develop evaluative frameworks for various programs and projects. This has included the development of a paper for the World Bank, Education Sector - Eastern and Southern Africa titled, 'The Development of National Occupational Standards in Canada and their Translation to Training Programs and Certifications', presented to the 'World Education Forum' in Dakar, Senegal. Further, Dr. Chavannes has travelled across North America lecturing on the national and international stage about preparing organizations and institutions for our burgeoning diversity, including a keynote address at the Pathways to Results Institute at the University of Illinois, focused on the role college and university administrators can play in reducing achievement gaps in post-secondary education for marginalized students. As well, as Director of Learning for the Canadian Centre of Diversity and Inclusion, Vidal was responsible for the development of diversity-related training programs for corporate partners, and a leadership development program for high school-aged youth across Canada, called See Different.
Dr. Chavannes is currently a Post-Doctoral Research Fellow with the University of Toronto, where he is working on a national research study focused on Black student university access. He is also an Associate Member of the Yeates School of Graduate Studies at Ryerson University, where he is supervising a PhD candidate in the G. Raymond Chang School of Continuing Education.