Location
City of Saskatoon, Civic Square
222 3rd Ave North
Saskatoon, SK S7K 0j5
Canada
Sales Have Ended
Registrations are closed
The event is an in-person event located at City Hall - the grassy area between the Saskatoon City Hall Building and the Saskatoon Frances Morrison Public Library down town at 222 3rd Ave North. See you there! Regards the Friends of the Saskatoon Afforestation Areas Inc. https://stbarbebaker.wordpress.com/ Flag Raising Ceremony | National Forest Week
Community based support for Urban Forests - Celebrating National Forest Week - "Our forests - Continually giving"
About this event
Community based support for Urban Forests - Celebrating National Forest Week - "Our forests - Continually giving"
Mon, 20 September 2021
2:00 PM – 3:00 PM CST
Location:
City of Saskatoon, Civic Square
City Hall
222 3rd Ave North
Saskatoon, SK
Canada
S7K 0J5
Come out and show your passion and dedication in support of urban forests!
Urban forests celebrated by National Forest Week and Maple Leaf Day in September. Commemorations for trees and forests resonates with the City of Saskatoon strategic goal of environmental leadership, Green Infrastructure Strategy, Climate Action Plan, Low Emissions Community Plan, and the city's official community plan. A celebration focus on forest heritage, culture, traditions, and history highlights the importance of trees, their essential ecological services. Trees support biodiversity and ecosystems, mitigate flooding, raise the water table, absorb carbon dioxide, and provide life saving oxygen. National Forest Week provides public support for the tree decisions made by Urban Forestry, Parks, Public Works, Long range planning. It's a time for residents of the city to tell stories about their love of trees, and appreciation of forests, and how very blessed we are. The flag raising and proclamation are a reminder of our responsibilities, relationship and solidarity with trees and forests.
The purpose of the flag raising is a great way to show support for urban forests! Urban forestry, and sustainability YXE green infrastructure strategy are both of importance to the City of Saskatoon. The name of the flag to be raised is the National Forest Week flag. A formal ceremony is planned for this event.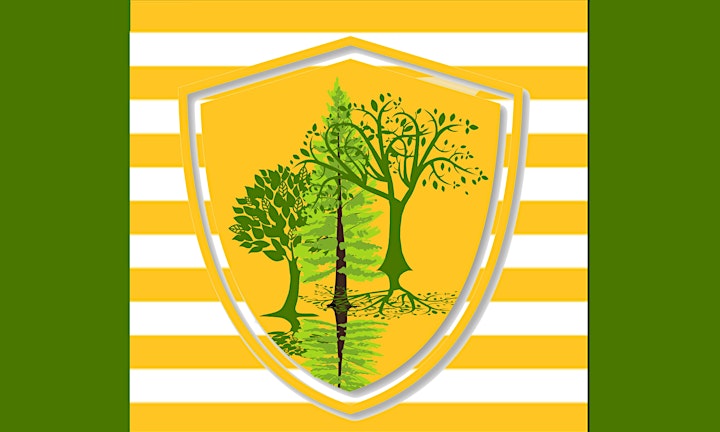 This program for National Forest Week is brought to you by the Friends of the Saskatoon Afforestation Areas an environmental non-profit charity that was created to preserve and restore the 326-acre Richard St. Barbe Baker Afforestation Area and the 148-acre George Genereux Urban Regional Park. Our work reinforces the 1972 City Council decision designating these afforestation areas on the western fringe of Saskatoon to "be preserved in perpetuity." They are important habitat for wildlife as well as semi-wild public spaces for recreation and nature immersion. The larger of these two areas is named after Richard St. Barbe Baker (1889-1982), who has been called the "first global conservationist" and in recognition of this he was made the first Honorary Life Member of the World Wildlife Fund in 1969. A British forester who also homesteaded and studied in Saskatoon, he dedicated his entire life unfailingly to the preservation and planting of trees and forests.
Heritage film release - information coming soon - November 6, 2021 - stay tuned
• 2021: Inspiring Environmental Action: Ordinary people doing the Extraordinary
The largest afforestation area in Saskatoon was named after Richard St. Barbe Baker OBE, Hon. LL.D. F.I.A.L., For. Dip. Cantab., ACF (9 October 1889 – 9 June 1982). Baker was a silviculturist, conservationist, environmental activist and prolific author, who contributed greatly to worldwide forest protection, reforestation and desert reclamation efforts. Richard St. Barbe Baker was one of the first climate change activists in that he addressed the issues surrounding climate change before this reality was named and his life demonstrates how an individual can take extraordinary action for environmental education and protection. Baker was ahead of his time in many ways and he is an inspirational role model for our time. The organization he started in 1922, now known as the International Tree Foundation, and other successful international organizations and activities started by individuals inspired by him (Eg: Plant-for-the-Planet and The Forest Trust) demonstrate this potential for inspired action. November 6, 2021 is the 5oth anniversary of Baker being awarded an honorary Doctorate of Laws from the University of Saskatchewan (U of S). Baker has other connections to Saskatoon; he was one of the first 100 students at the U of S, initiated former Prime Minister John Diefenbaker there, planted a tree at the U of S on World Environment Day, 1982, died here 4 days later and is buried in Saskatoon's Woodlawn Cemetery.