Fleetmac Wood: White Winged Love Disco

Friday, 13 November 2015 at 11:00 PM

-

Saturday, 14 November 2015 at 2:00 AM (PST)
Event Details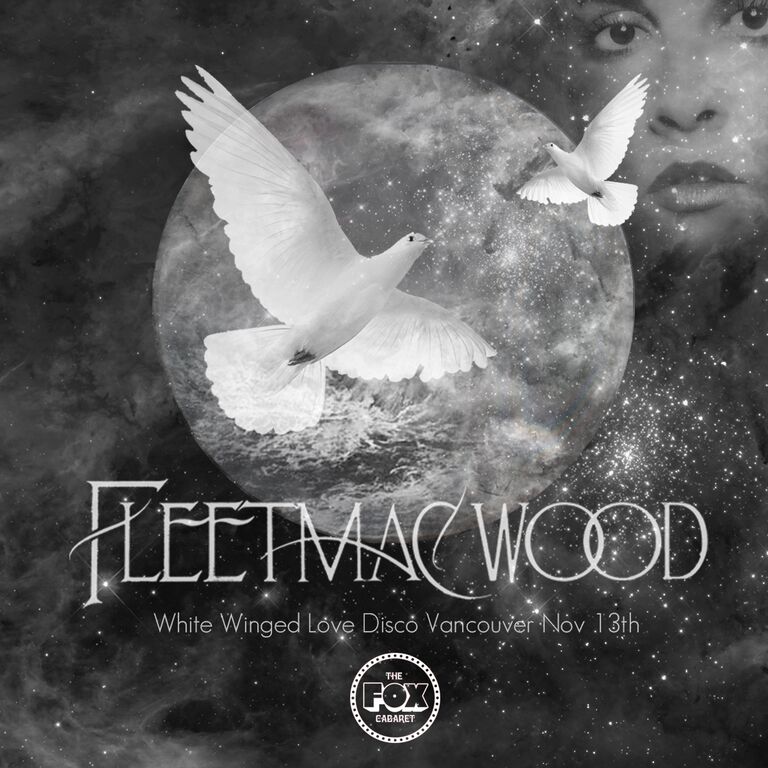 About the White Winged Love Disco 
"To those of you who have attended one of our parties before, we're looking forward to seeing you all again and if you haven't let us paint the picture for you:
Chances are you've heard a lot of Fleetwood Mac in your life. Perhaps you were smart enough to go see them live recently. But isn't it time you swathed yourself in a shawl or a waistcoat and wooden balls and surrendered your soul to five hours of this sublime music and REALLY felt it. Our party is a chance to listen to the wind blow from blues to rock to stadium pop to remix in a nightclub context. You need to hear this music LOUD. You need to move and lose yourself in the dark. You need to close your eyes and let yourself be taken by the wind. Rhiannon is calling you in your best WHITE outfit.
You are in safe hands. We've been putting on these parties since 2012, when we launched Pyschemagik's edit of Dreams in a sweaty East London basement. Since then we've taken our lovingly curated collection to Glastonbury, The Secret Garden Party, Burning Man, NYC, San Francisco, Palm Springs, Vancouver and LA.
This is not a tribute act. There are no cover versions. We just want to create an environment where you can enjoy the music with like-minded people. It's like a festival with the best people, because Fleetwood Mac fans are the best people. Fact. We've witnessed this every party we do - you guys are special. You're emotionally charged with your candles burning bright. Don't be surprised if you find yourself hugging a stranger at the end of the night to Landslide. And technically they won't be a stranger because, they have good taste like yourself.
A few house rules:
If you're not sure you like Fleetwood Mac, please don't come. No really, don't come. And don't drag along your friend who doesn't really like them either. We'll be overdosing on a feast of edits and originals (no cover versions permitted). This is an unadulterated, tunnel-visioned event, paying homage to the incredible musical journey that is Fleetwood Mac. This is ALL-NIGHT-LONG BIG LOVE.
An all white outfit is encouraged. You ARE the white winged dove." — Fleetmac Wood
---
TICKETS
$10 advance or $15 on the door 
LINKS
A little taste of what Fleetmac Woods parties are like:
https://www.youtube.com/watch?v=yD6tqB6zya8
When & Where

The Fox Cabaret
2321 Main Street
Vancouver, BC V5T 3C9
Canada

Friday, 13 November 2015 at 11:00 PM

-

Saturday, 14 November 2015 at 2:00 AM (PST)
Add to my calendar
Organizer
About Arrival
A Vancouver-based agency with the mission of creating extraordinary experiences that bring people together and enrich life. Past and present projects include: Reimagining the Waldorf Hotel as an arts and culture hub; re-opening of the Fox Theatre on Main Street as a music venue; programming FUSE at the Vancouver Art Gallery; throwing New Year's Eve and Halloween bashes at the Hotel Vancouver; programming the Khatsahlano Street Party and much more. 
About The Fox Cabaret
Located in the heart of Mt. Pleasant, The Fox Cabaret is a nightclub and performance space which provides a platform for the best of independent culture Vancouver. An almost 40-year-neighborhood fixture, the Fox has been home to a cult cinema, an indian movie house and was the last 35mm adult theatre in North America. Relaunched in 2013 by the Arrival Agency, the Fox has been reborn as a cultural space with a commitment to high quality, music, art, performance, entertainment and fun.
Having Problems Finding Tickets for an Event?
Tickets for non-Arrival Fox Cabaret events can be found on the Fox Events Calendar:  http://www.foxcabaret.com/calendar