Location
Scotiabank Theatre
259 Richmond St W
Toronto, ON M5V 3M6
Canada
Sales Have Ended
Ticket sales have ended
Sorry, tickets have sold out! We'll see you at our next event.
Description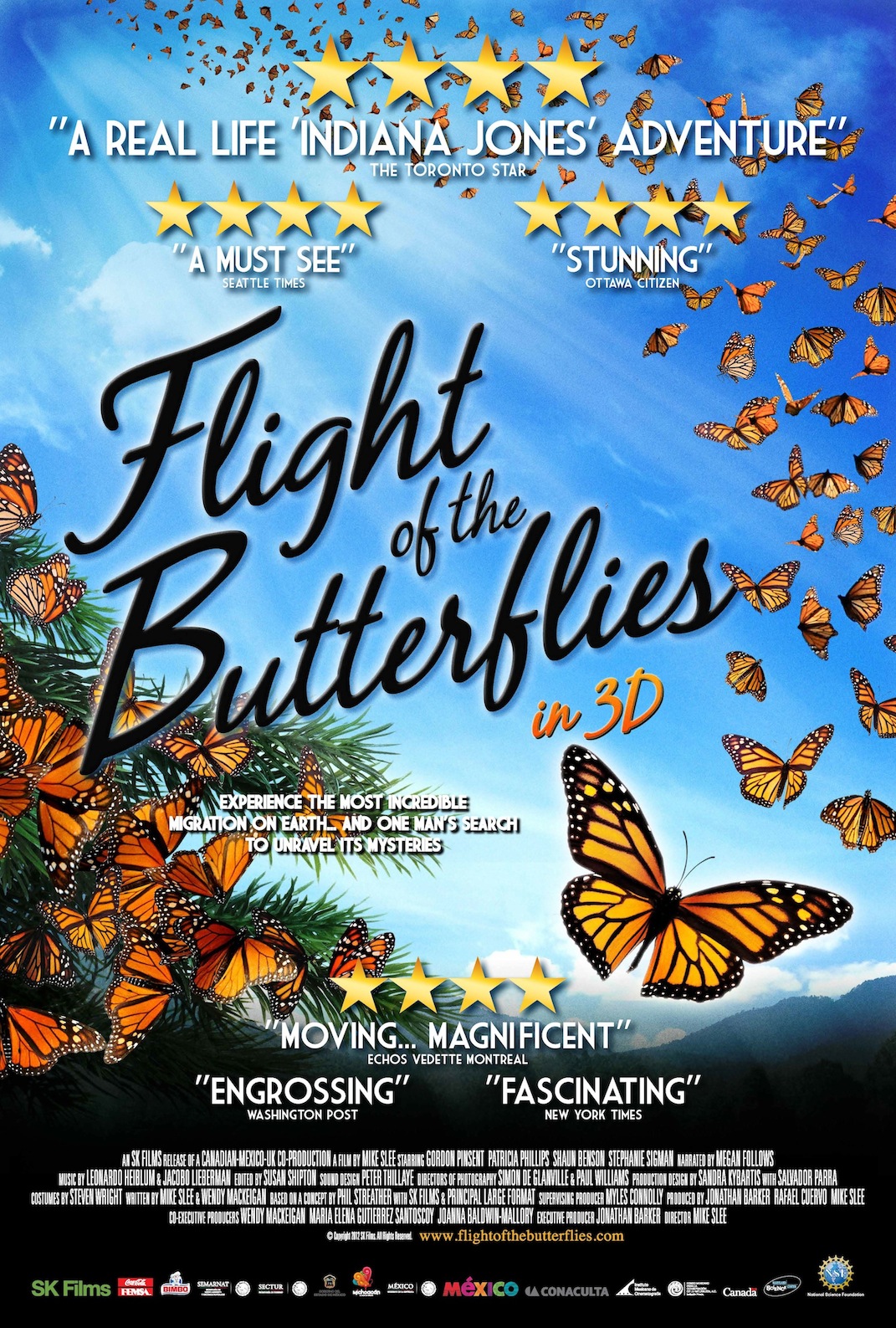 SK Films and the David Suzuki Foundation are proud to present an exclusive IMAX® 3D screening of the award-winning film Flight of the Butterflies at Toronto's Scotiabank Theatre.
When: Saturday, 12 April 2014 from 10:30 a.m. to noon
Where: Scotiabank Theatre, 259 Richmond Street West, Toronto
The film is a multi-award-winning natural history epic, compelling detective story and scientific adventure. Following the year-long annual migration cycle of the butterflies, the production team filmed millions of monarchs in their remote overwintering sanctuaries in Mexico in 2011 and again in 2012 along their migratory routes from Canada, across the U.S. and into Mexico. The IMAX® technology immerses you in the astounding migration experience as two generations of the butterflies migrate north and then a Super Generation miraculously finds its way from Canada to a few isolated mountaintops in Mexico—to a place it has never been! The migration story is interwoven with the inspirational detective story of a Canadian scientist's decades long and ultimately successful search for the overwintering sites.
Watch the trailer at http://www.youtube.com/watch?v=Nww3L5b0wno
All proceeds from this special screening will support the David Suzuki Foundation's Homegrown National Park Project, which aims to crowdsource a butterfly-friendly green corridor through the City of Toronto.
During the month of April, the Homegrown National Park Project will be helping to bring more milkweed home to the city by selling plants at www.davidsuzuki.org/gotmilkweed. Supporters can also contribute to the campaign by purchasing milkweed plants to be planted by volunteer Homegrown Park Rangers this spring.
All ticket holders will receive a voucher for one free milkweed plant, available for pick up only at a downtown native plant sale in late May.
For more information about the film, please visit www.flightofthebutterflies.com/.
For more information about the milkweed campaign, check out www.davidsuzuki.org/gotmilkweed.
About the Homegrown National Park Project: The David Suzuki Foundation launched the Homegrown National Park Project in 2013, aiming to crowdsource a green corridor through the City of Toronto, along the former Garrison Creek. Find out more about how the project is bringing nature home to the city, one fun intervention at a time: www.davidsuzuki.org/homegrown