Event Information
Refund policy
Contact the organizer to request a refund.
Eventbrite's fee is nonrefundable.
A full-day virtual summit on breaking political barriers to environmental progress!
About this event
Due to high demand, registration will now stay open until January 21st, Friday 13:59 pm EST.
IMPORTANT NOTE: If you are using a discount code, follow these steps:
1. Choose the general admission and the check out will pop up, select 1 ticket
2. Click "Enter promo code" in blue on the top left corner of the pop up
3) enter the code (no space, all caps) and click Apply on the right of the box
4) Select "Checkout "
Please email us at c.wang@greenpac.ca if you have further issues.
About the Event
In the wake of a federal election and on the verge of provincial elections (Ontario, Quebec) and municipal elections across the country, we are excited to announce FLIP 2.0, taking place online on Saturday, January 22nd, 2022.
Organized by GreenPAC, Canada's only nonpartisan nonprofit dedicated to building environmental leadership in politics, FLIP 2.0 will once again offer emerging and aspiring leaders from all backgrounds the unique opportunity to learn from former and current decision-makers, Parliamentary Interns and expert guests through a variety of fireside chats, workshops, and panel discussions.
From introductory-level sessions to deep-dives into environmental leadership in Canadian politics.. FLIP 2.0 has it all!
Sessions will be split into two concurrent streams (Advocate and Politico), exploring topics ranging from how decisions get made in politics, to the impact of the electoral system on environmental progress and much more. Attendees will have the opportunity to mix and match as desired.
The virtual summit experience
The original FLIP Summit was one of the first events of its kind to utilize Gather, a fun and interactive platform that comes as close as possible to recreating the in-person conference experience. This year, to make the event as accessible as possible for attendees from coast to coast to coast, the entire event will be online again using Gather's virtual conference space.
More updates to come!
Keep an eye out for more announcements on our social media! Once registered, you'll also be receiving updates via email as we finalize the event.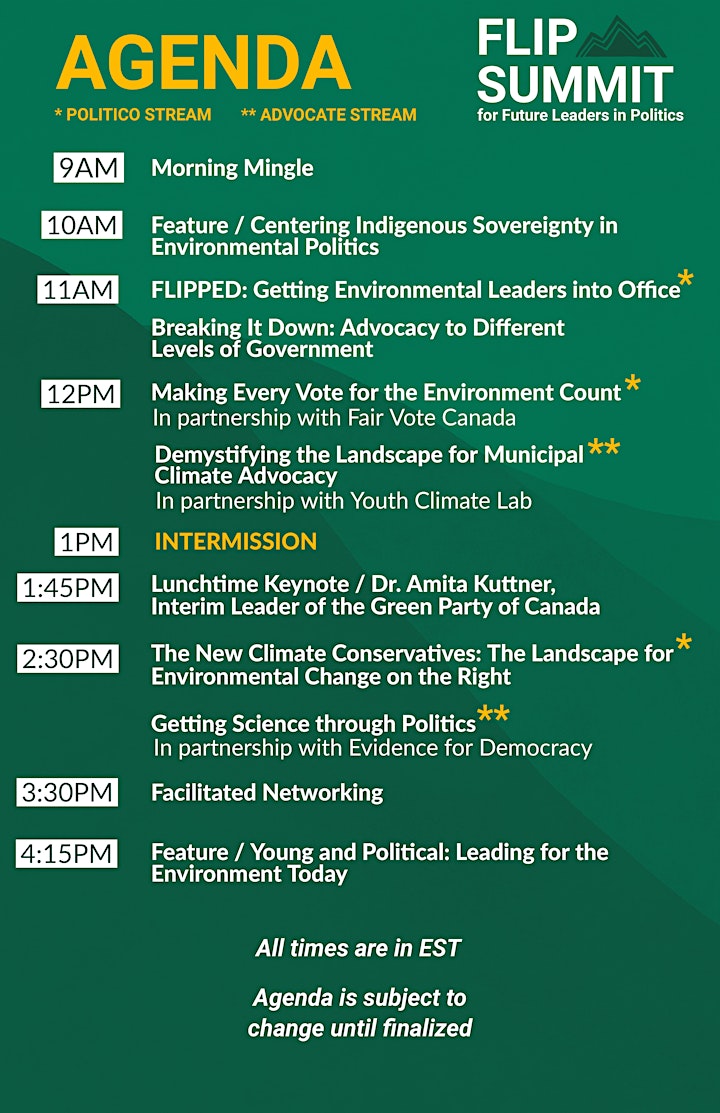 AGENDA in EST
*Event details are subject to change
9:00 - 9:45 Morning Mingle
9:45 - 10:00 Opening Remarks
10:00 - 11:00 Centering Indigenous Sovereignty in Environmental Politics
Speakers: Lori Idlout, MP of Nunavut, Graeme Reed, Senior Policy Advisor at Assembly of First Nations, Dr. Hayden King, Executive Director at Yellowhead Institute
11:00 - 11:55 Concurrent Sessions #1
POLITICO: FLIPPED: Getting Environmental Leaders into Office
Speakers: Mike Morrice, MP of Kitchener Centre, Dr. Paul Thomas, Director of Parliamentary Internship Programme (Canadian Political Science Association), Robin Edger, National Director, Climate Change at the Insurance Bureau of Canada, Tria Donaldson, Former NDP Candidate for Regina-Lewvan
Moderator: Najib Jutt, Political Advisor and Strategist
ADVOCATE: Breaking it down: Advocacy to Different Levels of Government
Workshop by George Benson, Managing Director of the Climate Displacement Planning Initiative
12:00 - 1:00 Concurrent Sessions #2
POLITICO: Making Every Vote for the Environment Count
Partner: Fair Vote Canada
Speakers: Hugh Segal, former Senator of Canada, Anna Keenan, Green Party Democratic Reform Critic, Sonia Théroux, Executive Director of Leadnow, Dolly Cepeda Montufar, National Board Member, Fair Vote Canada
Moderator: Alejandra Bravo, Director of Leadership and Training, Broadbent Institute
ADVOCATE: Demystifying the Landscape for Municipal Climate Advocacy
Session Partner: Youth Climate Lab
Speakers: Megan Curren, North Vancouver Councillor, Steering Committee Chair at Climate Caucus, Don Iveson, Former Mayor of Edmonton
Presenters
1:00 - 1:45 Intermission & Virtual Booths
1:45 - 2:15 Lunchtime Keynote:
Dr. Amita Kuttner, Interim leader of the Green Party of Canada
2:30 - 3:30 Concurrent Sessions #3
POLITICO: The New Climate Conservatives: The Landscape for Environmental Change on the Right
Speakers: Lisa Raitt, Former CPC Deputy Leader, Tim Powers, Chairman, Summa Strategies and Managing Director, Abacus Data, Dan Albas, CPC Shadow Minister for the Environment and Climate Change
ADVOCATE: Getting Science Through Politics
Partner: Evidence for Democracy
Speakers: Dr. Ted Hsu, Former MP for Kingston and the Islands, Dr. Devyani Singh, Green Party of Canada Green Economy Critic, Dr. Deborah McGregor, Canada Research Chair in Indigenous Environmental Justice, MP Richard Cannings, Member of Parliament
Moderator: Dr. Verena Sesin, GreenPAC Parliamentary Intern for the Environment
3:30 - 4:15 Facilitated Networking with Sustainable Youth Canada & Apathy is Boring
4:15 - 5:15 Closing Panel
Young and Political: Leading for the Environment Today
Speakers: Alison Gu, Burnaby City Councillor, Josh Swift, Regional Advisor for Office of the Minister of Environment and Climate Change, Jesse Hitchcock, Senior Research Analyst at E Source & Founder of Young Voters of PEI, Tesicca Truong, Co-founder of CityHive
Moderator: Kat Cadungog, Executive Director of the Foundation for Environmental Stewardship
This event is sponsored by:

Location
Refund policy
Contact the organizer to request a refund.
Eventbrite's fee is nonrefundable.
Organizer of FLIP 2.0 (Future Leaders in Politics)