Description
The 7th Annual Floating Lantern Peace Ceremony
August 3rd (Sat.), 8:00 pm, 2019, at Olympic Plaza, Downtown Calgary
Rain or Shine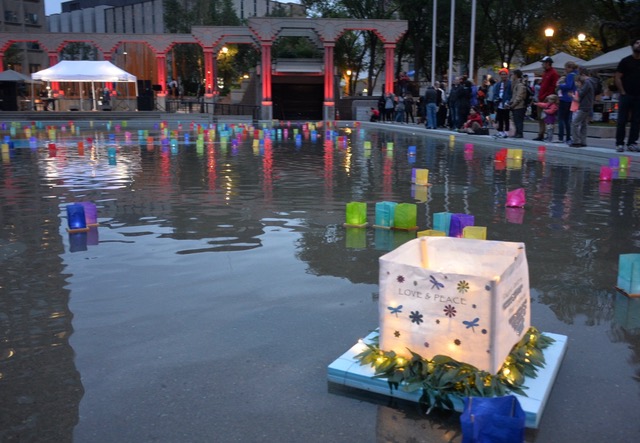 Come and experience the breathtaking beauty of lanterns floating on the Olympic Plaza pool.
This is an annual peace event that shares a wish for a peaceful society and a world free from violence, especially the ultimate violence, nuclear weapons, which destroy not only all living beings on the earth, but also our future generations and their environment.

What's in the Event?
Our shared hope is expressed by multicultural children's choruses, youth speakers, and peace songs by Calgary Women's Chorus.
Also, an inspirational speaker who has lived through war will use poetry to reach into our hearts and light up our imaginations, to create a culture of peace and dignity for all.
How Much Needed to Join the Event?
Absolutely FREE! Everyone is welcome.
Get together at Olympic Plaza with your friends and family!
Lantern rental is available with a donation of $5 or more if possible.
Write your wishes and dreams on the lantern shade!
With a donation of $20, we will prepare a professionally customized lantern-shade for you, which includes your own words that you would like to offer to someone who you love or missed. We will contact you for your preferred wording once your donation is made.
Why We Ask So Low in Lantern Rental? Where Your Donation Goes?
This is family-friendly event. We would like as many children as possible to enjoy this lantern event! And, most importantly, this is a Not For Profit event!
Our organizers and working team are all volunteer-basis for the cause of social justice and world peace. However, there are rental equipment and other costs to be met.
Your donation will keep afloat this beautiful peace event in Calgary, as well as the peace-making activities that Ploughshares Calgary Society has been working on in our community. Please check what Ploughshares Calgary Society is doing for the cause.
What is Happening with the Lanterns on the Pool after the Event?
Our team will thoroughly retrieve all lanterns from the pool and will separate paper-shades, both wooden-materials, and LED tea-lights. Rice-paper will be recycled and both wooden-materials and tea-lights will be re-used for the following event.
Our golden principle: Good Environmental Stewardship!
Launch your lanterns for peace and happiness for your family, our community, and the world!

Sponsored by Ploughshares Calgary Society and the City of Calgary.
In partnership with the United Nations Association - Calgary Branch and Calgary Interfaith Council.
With a kind support by 2020 Vision for Humanity
Website:
http://ploughsharescalgary.ca/2019-summer-event/
http://www.2020visionforhumanity.com/memorial-lantern.html
Contact: Ploughshares Calgary Society [floatinglanternpeace@gmail.com]